BASH Junior to be on Hit Cooking Show "Chopped"
Aspiring chef and BASH Junior Brittany Matteson is going to be on the cooking show Chopped.
Chopped is a competitive cooking show on Food Network where a group of four contestants must use secret ingredients to make a dish of their choice. A panel of judges then judge each of the meals and decide who gets "chopped" or kicked off the show.
There will be judges who choose whether Brittany stays or gets chopped, "I don't know who the judges will be. Chopped picks from a group of eight or so, and they only pick three; so that will be a surprise too."
The show has some strategy involved for the contestants. Brittany says hers is, "I'm just going with my gut feeling. I'm not going to overthink anything, and I'm going to make sure I get all the ingredients on my plate before time runs out."
Brittany says she got on the show by filling out an application online. She said she does not yet know when the show she will air.
She is going to New York to film the show December 8th through the 10th, and if she wins she will be there until the 12th. The show is paying for the hotel and splitting the cost of gas and tolls.""My dad and stepmom are taking me and staying with me, and we will be driving up there," she said.
Chopped is just the beginning for Brittany; she has plans on having her own restaurant one day.
"I want to go to the Culinary Institute of America for college, and then after I want to work as the head chef in a great restaurant and eventually I want to open my own restaurant," she said.
Brittany isn't just a rookie chef, in fact she has a lot of cooking experience.
"I've been cooking since I was six or so, and I've always loved cooking. I've been cooking every night for my family of six since I was twelve, I am seventeen now."
She is in the BCTC program for culinary arts at its east campus at Oley.
Most chefs have a specialty dish, or something they love to make. Brittany has one too, "I love making lasagna and baked ziti and Italian foods. I love pasta."
Brittany is excited to be on Chopped, "Yeah, I'm a little nervous. I'll probably be super nervous closer to filming, but as of now it's all so surreal. Very stressful and very exciting."
Leave a Comment
About the Contributor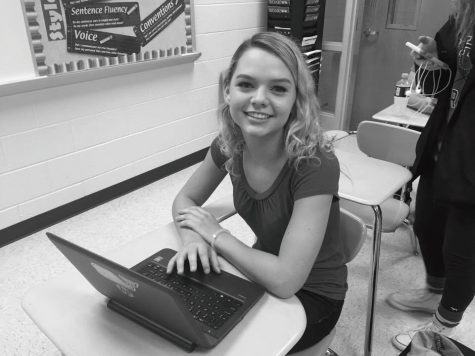 Marielle Bozzini, Staff Writer
Marielle Bozzini is an 11th grade student interested in broadcasting and communications. A skier, she enjoys spending time in the Poconos with her family...