Following Fargo: S2 E1 Waiting for Dutch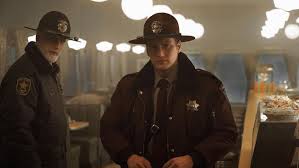 James Mason, Staff Writer/Editor/Critic
October 22, 2015
October 12th was the moment of truth for the second season of Fargo. I mean, a certain amount of hype is expected for a popular returning TV show, but this was something bigger. It's first season aired around the same time as the first season of True Detective, so the comparisons were inevitable. Both were well shot crime dramas, but that's about all they have in common. True Detective was much grittier and took place in a world that felt all-too-real (the beautifully eerie Louisiana setting was a genius move), whereas Fargo had a more absurd element to it and seemed to take place in it's own little world. Both were critically acclaimed, and critics still debate which one was better.
So, when the second season of True Detective came around, people were curious to see how Fargo's second round would hold up. Only problem was True Detective's second season couldn't even hold up against it's own first season. Everybody on Twitter wanted to take a slam at it, and boy did they. By the end of it, many of its most loyal fans had sworn off the show, which means Fargo now has an unexpected hurdle to jump. People are ready to swear it off just from the first episode out of fear that it would be just like True Detective's disastrous second run.
So that makes it even more satisfying that Fargo Season 2 is everything you could want it to be — more snow, more funny accents, and a broader plot that ties into the original but still feels new.
The first season followed a drifter, Lorne Malvo (Billy Bob Thornton), and the chaos he causes after steering a frustrated married man, Lester Nygaard (Martin Freeman), to an act of violence. The officer assigned to the crime is Molly Solverson (Allison Tolman), who quickly begins to realize the scope of the crime, but becomes frustrated when her boss, Bill Oswalt (Bob Odenkirk) refuses to believe her.
This season follows Patrick Wilson as Lou Solverson, Molly's dad. Whereas the first season took place in 2006, now we're in 1979, when Molly is a little girl and her dad is investigating a triple murder at the Waffle House. In a brilliant act of storytelling, this single crime ties together three very separate plot threads.
The perpetrator of the crime is Rye Gerhardt (Kieran Culkin), one of three Gerhardt brothers all fighting for their father's position as leader of their crime syndicate in South Dakota. When their father has a stroke, the position is left up for grabs.
This spurs a fellow crime syndicate with Joe Bulo (Brad Garrett from Everybody Loves Raymond) to realize this makes the Gerhardt's very weak. So they move to their land to try to take control.
All in just the first episode, the stage is set for a major crime war to go down. Yet I didn't even get the the fourth plotline with Jesse Plemons and Kirsten Dunst as a quiet married couple who also get tied into all of this. Yes, there's four plots — but it's never confusing or convoluted The way each one unfolds and overlaps into each other keeps it endlessly watchable, and an excellent cast rounds it out (Keep an eye out for Ted Danson and Nick Offerman). Regardless of what else you're watching, make sure to add Fargo to your binge list for this winter. It's only up from here.