BASH Grad Chasing Professional Dreams Out on the Diamond
Some only dream of becoming a professional athlete, but Shayne Houck is making his dream a reality.
The 2008 BASH grad is in his fourth season playing baseball in the minor leagues. He was named MVP of the independent Frontier League in 2014 and has also spent time play with the San Francisco Giants and Arizona Diamondbacks organizations.
He said what he learned most playing baseball in Boyertown was "the team aspect" of the game, something he still values.
"It was an honor to be named MVP," Houck said, "but I couldn't have done it without the other guys on the team because if they don't get on base, I can't hit them in."
The base for Houck's progress started at Boyertown, where he played for the BASH school team as well as the Boyertown Bears American Legion team.
"The philosophy of Boyertown baseball is to do the little things correct to help the team win, such as getting a bunt down or moving a runner to help the team win," he said. "That's helped a lot in my career to be successful because I understand what needs to be done before the play happens."
 Houck said his fondest memory of playing baseball at Boyertown is  in 2008 when the Legion team won the state tournament at Bear Stadium. "I was awarded the MVP of the tournament and they brought my grandparents out on the field to present the award to me."
Houck also played soccer, basketball and ice hockey as a kid.  He said he chose baseball because it was his best sport.
"I remember always being active when I was very young," he said.
As a result of Houck's great success at Boyertown, he was offered scholarships from West Chester University and Kutztown University.  He chose Kutztown, where he studied sports management.
"I visited both schools and felt more at home at Kutztown," he said. "Also, it was closer to home and would allow my family to watch me play more."
Houck was drafted in the 29th round of the 2012 MLB June Aametuer Draft by the San Francisco Giants.
"Getting drafted was an awesome experience," Houck said. "I didn't really know that the Giants were interested in me.
"When I heard my name I immediately called my parents to let them know and then the grandparents. It was one of the coolest experiences of my life."
Houck made his Minor League Baseball debut in June of 2012 playing 1st and 3rd base on the Arizona League Giants, a minor league affiliate of the San Francisco Giants. In 34 games, he batted .291 with four home runs and 22 RBIs.
Playing in the minors was quite an adjustment.
"I had to learn a different way of preparing for games and building a solid work ethic," he said. "Your teammates in MiLB aren't just your teammates but are your main competition to advance your career, so it's a little bit of a double edged sword in that regard."
In 2013, Houck advanced to class A and played for the Augusta GreenJackets of the South Atlantic League.  He struggled, batting .235 with 5 home runs and 43 RBIs over 96 games.
At the end of the season, Houck was released by the Giants organization and considers this his career low.
"My career with the San Francisco Giants was a little shorter than I would have hoped," he said, "but I had a really good experience with the organization and met some people whom I still am in contact with.
He said being released by the Giants was a little unexpected and he briefly considered ending his baseball career. However, he realized, "I couldn't do that, though, since I love this game so much that I couldn't just walk away."
Within days of his release, Houck was being offered contracts from independent teams, which are minor league baseball teams not affiliated with a major league team and not part of the MiLB.
Houck chose to sign with the Evansville (Indiana) Otters of the Frontier League.  During the 2014 season, Houck found league-leading success playing 3rd base.  He batted .307 with 23 home runs and 66 RBI in 92 games.
He was rewarded by being named MVP of the Frontier League.  He also led the league in home runs and considers the season his career high.
"I had a great time with Evansville last year," he said. "The whole team and front office staff is wonderful to work with."
Houck was acquired by the Arizona Diamondbacks in the offseason and invited to spring training this spring.  He has since been released and is going to play for the Evansville Otters again this season.
Houck said when he does stop playing, he hopes to become a hitting coach and maybe even a head coach.
He still enjoys coming back to Boyertown to visit with his old coaches. His advice for high school athletes is to work hard and give 100 percent, but make sure they have a backup plan since statistically less than 1 percent of high school baseball players will play for a MLB organization.
"That's not meant to be discouraging," he said, "but it's very tough to get noticed and for someone to give you a chance."
Leave a Comment
About the Contributor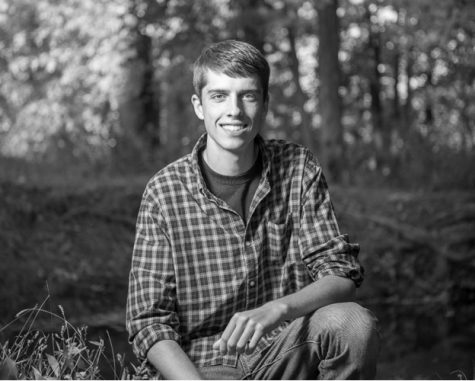 Matt Knaub, Sports Editor
Matthew Knaub is the sports editor for the BASH CUB.  He is a senior and is in his third year writing about sports for the CUB. Matt's future plans...