Annual Inspection Earns NJROTC Honors
BASH's NJROTC program once again won Distinguished Unit honors for its annual inspection.
The inspection is the most nerve-racking event of the year for NJROTC cadets as the program competes with other programs to be a top company in the United States. Being a Distinguished Unit means that the company is in the top 35 percent of the NJROTC programs in the country.
Commander Joe Hankins, the regional JROTC manager who led the inspection on March 11, praised for Boyertown for its many accomplishments over the past year and improvements from last year's annual inspection.
"I always love coming back to Boyertown because of how well they perform year after year," Hankins said.
Annual Inspection involves the entire unit getting a personal inspection that grades each person on the condition of his or her uniform, and it counts as 50 percent of his final grade. The inspection concludes with demonstrations from the drill platoon and color guard, a prayer from one of the cadets, and a quick pass and review ceremony that shows all cadets marching properly around the Bear Gym.
In between these events, promotions and awards are given to cadets who passed tests and have shown a great deal of skill in JROTC.
Charles Orfe is a Petty Officer, 1st Class, with NJROTC
[slideshow_deploy id='2612′]
Leave a Comment
About the Contributor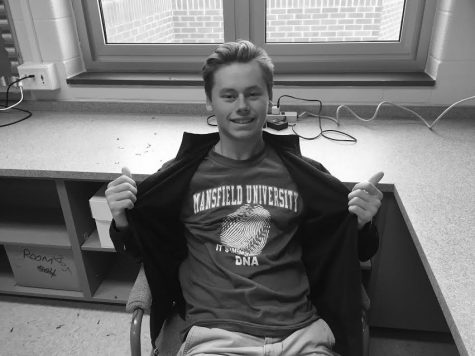 Charles Orfe, Sports Writer
Charles Orfe is a senior. He is interested in journalism because he wants to be a Public Relations or Sports Journalism major. His free time consists of...