Social Media Can Be Vehicle for Bullying at School
Earlier this year, Yik Yak caused issues at BASH
Cyber bullying has taken its toll on millions of people across the globe. Students at BASH are not immune, as a recent incident involving Yik Yak, the anonymous social media app, proves.
Earlier this year, students used Yik Yak to cyberbully numerous others without revealing their identity, causing a school-wide frenzy of hurt feelings and destroyed reputations.
"There were some pretty ugly things said about students," said assistant principal Dr. Wayne Foley, "So therefore, our goal was to figure out what it is as quickly as we possibly could and move through it."
It took a few days for school administration put an end to the bullying by cutting student access to the application.
"We worked with our IT department, and we actually called the company, and they helped us put a geo-fence up." Dr. Foley commented about Yik Yak.
This geo-fence, which has been put around the school district properties, restricts students from using Yik Yak. However, the application was accessible long enough to allow some students to spread negative rumors about one another.
"Everyone's attitude flared up during that period of time, and just the whole atmosphere and vibe in the school got out of hand very quickly," said senior Zach Sermarini, "No one had anything constructive or nice to say."
Sophomore Jared Mertz said, "It really affected everybody, not in good way. People were just getting ripped apart; they were being terrorized on there."
Administration found out about what was going on when victims of Yik Yak notified teachers about what was happening and that started the process of getting it removed.
"There was a report based upon conversations of students," said Dr. Foley, "and of course they came in and tried to explain to us that things were said about them on the Yik Yak social media."
The problem with Yik Yak was that anyone who had the app could post anonymously. Students could say anything they wanted without anyone knowing who said it.
"No one had anything constructive or nice to say and people thought they could take their anger out through means of social media," said Sermarini.
Though it is gone from BASH, Yik Yak has raised important questions about social media and has taken its toll on many other schools in the area.
Recently, at Penn State Berks campus, a bomb threat was made using Yik Yak to a building that was under construction by an anonymous student. This was not the first time a threat was made on campus through Yik Yak.
Northern Lebanon School District also has blocked the use of Yik Yak in their schools. In fact, the district says they are encouraging parents to talk to their children about the anonymous app.
Mertz said he believes most social media is harmless overall. "There is no real need for it, but there's nothing really bad about it."
Sermarini also said social media, when managed by the school, can be very helpful. "Things like our student council Twitter and Edmodo is helpful for us to stay in touch with each other and keep up to date with all the things that are going on in the school," he said.
Dr. Foley said administration is discussing possible ways to  teach students social media etiquette, hoping to prevent something like Yik Yak from happening again.
"The best way we can handle this is to educate, said Dr. Foley, "If we educate people on how to properly use these things, then I think thats a better way to do it. We're not going to get rid of it, moderate it, or even control it in anyway shape or form."
In fact, Dr. Foley has developed a "digital citizenship" course that will encompass K -12. Upon completing the course, students will receive a certificate as their "digital driver's license."
"The course is designed to help with these issues, but ultimately, it will be up to the students to make good choices about social media," said Foley.
Leave a Comment
About the Contributor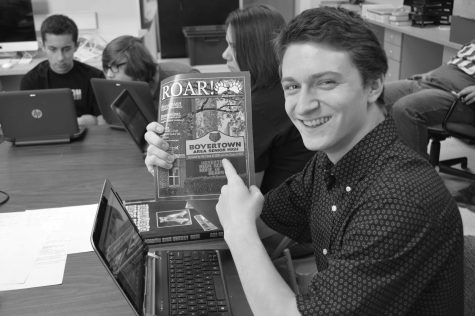 Harrison Otto, Editor in Chief
Harrison Otto is a senior, and is serving as the Cub Editor-in-Chief for the second year in a row. He is the Class of 2017 Treasurer, member of the YMCA...