Physical Education Teacher Comes Home to Teach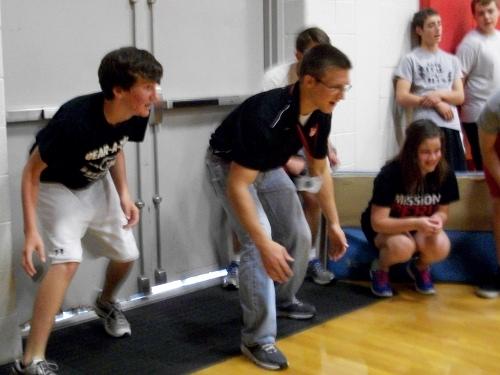 When BASH needed a new gym teacher this year, it decided to hire one of its own.
Mr. David Jones took the place of his former teacher, Mr. Sachs, who retired last year.
"I have some pretty big shoes to fill," he said. "Mr. Sachs was a great teacher and one of my favorites from when I went to Boyertown."
Mr. Jones, 24, graduated from BASH in 2007 and from Messiah College in 2011. This is his first job as a teacher. He is teaching 10th grade Wellness, and Team Sports. Next semester he will teach one period of net games as well.
He said he wants to be a phys ed teacher because, "I really enjoy helping kids, and I love sports!"
He also is concerned about the obesity epidemic across America.
"Children and teens constantly face this situation and I want to help fix this problem so they can lead happy, healthy lives," he said. "I plan to teach students the importance of taking care of their bodies and the importance of a healthy lifestyle."
"I want to help students stay physically fit."
In addition to Mr. Sachs, Jones said he had a lot of good teachers at BASH. "I just want to give a shout out to Mr. Spinka, Mr. Fries, Mr. Kusniez, Mr. Turner, and Mr. Carr," he said. "They and so many more made my time as a student at Boyertown very enjoyable."
In addition to teaching at BASH, Mr. Jones is the assistant wrestling coach at Junior High West.
Outside of school, Mr. Jones plays guitar for his church's worship band and co-runs the Bally Community Center. He has been married for two years.
Leave a Comment