Protesters from all over the country came to Washington, D.C., for the historic "March for Israel" event as a sign of unity and support for Israel. Because of the gathering's unprecedented size and the importance and sensitivity of Middle East-related issues, security measures were tightened.
The March for Israel, which was organized by a number of pro-Israel organizations, sought to unite people of all political persuasions, backgrounds, and religions in support of the State of Israel. Driven by a shared commitment to promoting peace and understanding in the region, participants traveled from all over the nation.
The event, which was held on November 14, 2023, brought attention to Israel's difficulties as well as the Middle East's complicated geopolitical environment. Protesters emphasized the need for international cooperation and communication by holding banners, signs, and flags decorated with symbols of peace and unity.
Because of the historical and political significance of the event, security measures were stepped up to safeguard attendees and prevent any potential disruptions. Working closely with event organizers, law enforcement agencies implemented a comprehensive security plan that included extra staff, surveillance equipment, and strategically placed checkpoints.
Concerns about the delicate nature of the Israel-Palestine conflict and possible counter-protests were the reason for the heightened security presence. The ability for participants to peacefully voice their opinions was made possible by the authorities' ability to control sizable crowds and keep the peace.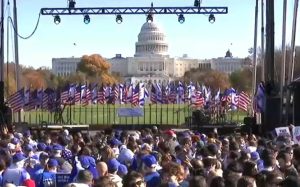 Speakers at the March for Israel included peace activists, political figures, and representatives of various religions. Speaking to a varied audience, these speakers emphasized the value of promoting diplomatic solutions to the difficult problems the Middle East faces.
Open communication among participants was encouraged, fostering a positive interchange of viewpoints and ideas. In order to establish a more stable and peaceful region, the event aimed to go beyond political divisions and emphasize shared values.
Numerous news outlets covered the March for Israel from a variety of perspectives, garnering substantial media attention. Social media was alive with conversation, showcasing the range of viewpoints on the topics at hand. The public's reaction was a reflection of the continuous discussion about the United States' position in the Middle East and the complexities of its foreign policy.
The Washington, D.C., March for Israel served as a symbol of the value of nonviolent advocacy and the strength of group action. The need for constructive engagement and open communication was highlighted by the heightened security measures, which also highlighted how delicate the issues at hand are. The fact that protestors from all over the nation came together for this historic occasion serves as a reminder that, despite difficult geopolitical obstacles, pursuing peace and understanding is still a goal that we all share.