Western hemisphere's most deadly volcano might erupt
The Western Hemisphere's most deadly volcano, Nevado del Ruiz, has recently been showing signs it might erupt again. It's been mostly inactive since 1985, when it erupted and killed over 23,000 people. Recent signs the volcano might erupt again have caused a great concern to the Colombian government and authorities. 
The Columbian Geological Service recently found out that the seismic activity of the volcano was increasing. According to mshslc.org, "This type of earthquake is produced when rocks fracture as magma forces its way towards the surface". 
Thousands of volcanic tremors have been recorded over the past few days. The Pacific Northwest Seismic Network says Tremors are "Vibrations generated by the movement of magma or other fluids within the volcano". 
The Colombian government is trying to get families who live by the volcano to evacuate the area. On Wednesday, April 12th, Colombia's president Gustavo Petro officially ordered "The preventive evacuation of 2,500 families". He also stated that "The government is dealing with the situation first-hand and coordinating all the capacities". 
Murillo, the closest town to Nevado del Ruiz, has been showing little concern. Most of the town's residents have been "going about their business despite the risk of an eruption" writes  Ernesto Guzman Ruiz, a writer for La Prensa Latina. 
4 new evacuation points have been established in preparation for a potential eruption. This has the potential to be one of the most deadly eruptions in recent history.
The last time Nevado del Ruiz erupted, November 13, 1985, it killed 23,000 people. There were also many stranded alone without basic human sustenance.
This caused the United States military to come and help with search and rescue missions. "Once we got there, our primary focus was to quickly establish monitoring, because at that point, we didn't really know what had happened — or what could happen," say  Jeffrey Marso, a geologist who was at the scene. 
If Nevado del Ruiz erupted again, the United States military will likely aid again. This has the potential to cause United States military spending to increase. 
It's also important to realize the potential effects this could have on Boyertown. According to the US Department of State "Primary U.S. imports from Colombia include crude oil, coffee, and cut flowers" and "Approximately 450 U.S. businesses have investments in Colombia. U.S. direct investment in Colombia is primarily concentrated in the mining and manufacturing sectors".
This would cause the price of oil, gas, and many other things that contain oil to increase in price or be harder to get. Common products that include oil include makeup, shampoo, soaps, toothpaste, gasoline, and more. The business investments in Columbia could also cause the economy to decline.
Leave a Comment
About the Contributor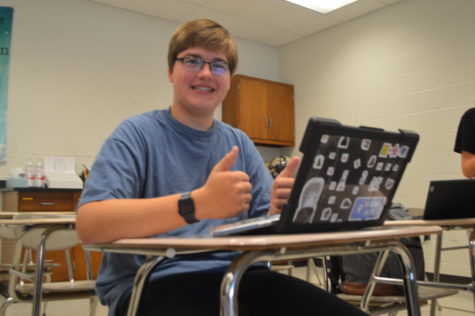 John Loos
John is a junior this year at BASH. This is his second year working with the newspaper and his third year taking journalism. He joined journalism for a...