Panic! at the Disco New Songs More Pop
After Panic! at the Disco frontman Brendon Urie dropped many hints about the dates 3-19-18 and 3-21-18, fans suspected that he had to have something up his sleeve.  Sure enough, he released two songs from the band's new album Pray For The Wicked  and announced that the full-length album is scheduled to be released on June 22nd.
"(F— a) Silver Lining" and "Say Amen (Saturday night)" take a turn from the band's usual emo-alternative rock feel to something that sounds more like The Beatles. "(F— a) Silver Lining" definitely has a pop feel.  The song has simple lyrics compared to the band's complex past songs. The party-type vibe is fun and is definitely a song that will make people dance.
"Say Amen (Saturday night)" has a pop-like vibe as well, but it is closer to the band's original sound. The song has a powerful chorus and takes advantage of Urie's insane vocal range. The singer has definitely grown over the years. He says in a press release that he wrote the album after returning home after his stint in the Broadway show Kinky Boots.
"I just wanted to hang out at home when I got back to LA. I was so revved up that I asked some friends to come over to my home studio to help me write about all the incredible things I've experienced the last couple of years," he says. "Pray For The Wicked is my thank you to our fans and the most fun I've ever had making album."
The music video for "Say Amen" is as weird at ever — a prequel to clips for earlier singles "This is Gospel" and "The Emperor's New Clothes" (when Urie is wandering around the Underworld). In "Say Amen" Urie stole an ancient artifact known as "The Devil's Key", and burglars have broken into his house to steal it from him.  Urie then takes on the men, while still managing to look sharp. His girlfriend comes over, and the video ends violently.
Pray for the Wicked will be Panic! At the Disco's sixth album. The Las Vegas band got its big break in 2004 when it sent a link of songs to Fall Out Boy. Two key members, Jon Walker and Ryan Ross, left in 2009 due to musical differences. Urie is the only original member remaining in the band, with new members who tour with him, including a new bassist, Nicole Row.
Fans who place their orders for Pray for the Wicked before 9 p.m. on March 29 will have early access to tickets for Panic!'s upcoming U.S. arena tour, which includes a stop in Philadelphia July 27.
Leave a Comment
About the Contributor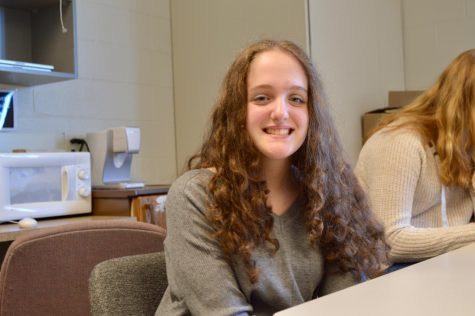 Samantha Hoffman, Staff Writer
Samantha Hoffman is a sophomore who loves to read and write, and she is a member of The Cub. She enjoys fiction writing and is involved in The Accent. Other...