McNeill's Week 6 Preview
Another week of football down, and the Philadelphia Eagles are second in the division. I kid you not, they are second in division, with a winning percentage of .300. What a joke, right? I absolutely agree. The fact that this team has a chance at the playoffs is horrendous, and flat out astonishing. With the Eagles going out to Pittsburgh to play the Steelers, there was some hope that the Birds could win. But no, they lost. Jake Elliot missed a fifty yard field goal. The Steelers offense then went right down the field, and scored for the final score of the game to be 38-29. Now let's get into this week's preview!
The Eagles are home this weekend for the first time this season with actual NFL fans. They will be playing the flashy Baltimore Ravens this week at one in the afternoon. Ravens QB Lamar Jackson is not doing as hot as we all thought he would. Hence he is coming off of his MVP season. Jackson is in his early twenties, but is looking and showing progression to becoming a future hall of famer. Jackson, besides running the ball, has a couple targets he can throw to. These targets being, Tight End- Mark Andrews, WR's; "Hollywood" Brown, Willie Snead Jr., and a couple other no-namers the Eagles will not have to worry about. When watching Jackson play, he does not really throw to his wide receivers as much as he should. Jackson will throw the ball to his tight ends all day if he wants, because that is where he feels most comfortable. Going off of that, the Eagles defense needs to recognize this form of style Jackson plays with, and needs to shut it down immediately. 
The Eagles defense was a tragedy last week. Giving up thirty eight points to a quiet Steelers offense besides rookie WR- Chase Claypool who caught four touchdowns for over 110 yards. With last weeks loss it seems yet again the Eagles are prominently okay with giving up lots of yards per down, because in my eyes, it looked like they were waiting for the Steelers wide-outs to catch the passes before even hitting them. Also, just another week of me recognizing but not the Eagles front office, that LB Nathan Gerry should not be on a football team, no matter the circumstances. Gerry is just downright horrible, and needs to be removed from the defensive scheme immediately!  But hopefully the Eagles defense can come up and at least try to be in this game against Baltimore.
And now for the offense. Last week I thought I was going to see the worst performance from Carson Wentz. I am saying this because he was going up the second best defense in the league according to all pro football networks, blogs, etc. But Wentz played a little bit under "okay". Carson Wentz indeed threw his ninth interception this weekend in his 5th game of the season, with throwing only six touchdowns. This needs to stop now. If the Eagles are going to do anything this season, or even try to make a playoff run, Wentz needs to open up the offense more, and make more audibles at the line. If he sees a blitz audible, if he sees the safeties are playing down, audible. It cannot be that hard for a man who eats, sleeps, and breathes football, to call this simple audible up at the line of scrimmage.
When coming against this terrifying Baltimore defense, Carson Wentz has to utilize Myles Sanders, who showed up last week with close to 90 yards rushing and a pair of touchdowns. Wentz also has to get Zach Ertz in the passing game along with new "diamond in the rough" wideout Travis Fulgham. Fulgham last week put up a stat line of; 10 catches 152 yards and a touchdown to cap it all off. And hopefully with a return of Alshon Jeffrey and DeSean Jackson, the Eagles could pass the ball and Wentz should be able to put the ball in some tough spots for his veteran wide receivers to catch. 
As we reach the end of my preview, I ask us Eagles fans this weekend to have some faith in our football team. Times as we see them now are tough, but no matter what happens on Sunday, we should just be happy that during a worldwide pandemic, we get to watch and go to something we truly love and care about (GO BIRDS!!).
Leave a Comment
About the Contributor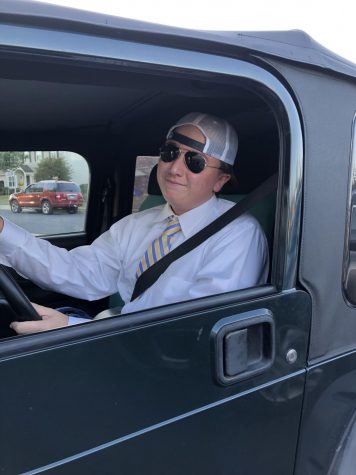 Connor McNeill, Co Sports Editor
Connor is a senior at BASH, and this is his first year writing for The Cub. He aspires to be sports talk radio host, and hopes to get there by starting...