McNeill's Week 5 Preview
"Luck be a lady tonight." This famous 1965 hit from the no other Frank Sinatra is how I felt after the Philadelphia Eagles stunned the world and won against the San Francisco 49ers last Sunday night on the primetime "Sunday Night Football." With that being said, luck is what the Eagles needed, and luck is what they got. After second string quarterback Nick Mullens threw his second INT to the CFL (canadian Football League) Defensive Player of the Year, Coach Kyle Shanahaan decided to go with third stringer C.J. Beathard. Beathard marched right down the field to score against a surprisingly well played Eagle defense. Beathard wasn't able to win the game for the 49ers, as they tried to march down the field a second time with about a minute left in the fourth quarter. But, with that being said, let me tell you what I liked, and flat out hated.  
First of all, I will give credit when credit is due. Carson Wentz played "good." I won't say he played amazing, and that we saw his 2017 version, where he could do anything and everything. But, what I will say, is that Wentz is starting to get a little more comfortable when Kelce snaps the ball. Again, Wentz has no receivers that are normally on a NFL field besides Greg Ward Jr. And when watching that Sunday night game, I was able to see that Wentz has some of that chemistry like Tom Brady does, where you can sign any wide receiver on the team and can throw to them easily. Obviously, Wentz isn't a Brady. If he was, I wouldn't be as despondent as I am now; yet Wentz was placing the ball to his wide receivers like they have been playing with each other for years. This is a good sign of confidence Wentz has in his receivers, but nevertheless it does need to be upgraded.
Going into this Sunday, the Eagles are getting ready for a prominent matchup known as "Battle of the Pennsylvanias." With this being said, the last time the Eagles and Pittsburgh Steelers played, the Eagles won 34-3. Obviously this performance will not be repeated as the Eagles do not have the stars they did in 2017, and the Steelers have a much better defense. And with Tom Wolf letting fifteen percent of fans in stadiums now (7500 at the Linc), we should be seeing some Eagles fans out in the Burgh; trying to create some noise throughout the game.
With the Steelers having a pretty strong defense, the Eagles will need to dig up some old creative plays from 2017. No, I am not saying the "Philly Special," I am thinking more of interesting play action passes, and add in a couple of reverses. With Wentz being more comfortable with the team, he should be able to make these plays happen, as he is a lot better and accurate when out of the pocket. With Lane Johnson being the only solid offensive tackle the Birds have, that is where the strong side needs to be. Having Myles Sanders running up the ole three hole between Matt Pryor and Johnson, the Eagles can execute a solid run performance.
As for the defense, the Eagles are going to have to have their best corner in Darius Slay Jr. be on alert more than he has ever been. He will be lining up in front of All-Pro, wide receiver JuJu Smith-Schuster, who has been on a wreck during these past four weeks. Slay has done a good job against his assignments but Smith-Schuster is a different breed. Smith-Schuster is big, and he can run. With a great route running ability, what can't this guy do? The answer- nothing. 
The defensive front is pretty solid against the Steelers o-line. While leading the league with seventeen sacks, the Eagles need to keep adding to this number this Sunday, or else they will lose the game. With sacks comes pressure, with pressure, means Jim Schwartz actually called for a blitz (which rarely happens). The linebacker problem is still horrendous. Nate Gerry shouldn't be on the field, he again is too slow, and too small to play the position, and wherever the ball is, Gerry is on the other side, or "filled another hole" which just doesn't work for me. On other hands, T.J. Edwards has been playing very well. Being rated ninth out of close to sixty linebackers in the whole league, Edwards is solid and could be an above average option for the Eagles heading down the stretch.
All said and done, the Eagles once again need to be close in the game and not let Steeler scoring get out of hand. But as always, I'll be watching and rooting for my Birds (GO BIRDS)!
Leave a Comment
About the Contributor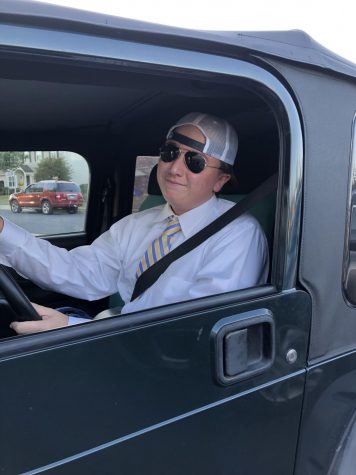 Connor McNeill, Co Sports Editor
Connor is a senior at BASH, and this is his first year writing for The Cub. He aspires to be sports talk radio host, and hopes to get there by starting...