Students Pick Rams in Super Bowl
It was a neck-and-neck race, but students give the Los Angeles Rams the edge over the New England Patriots to win the Super Bowl.
Students gave their predictions on Sunday's Super Bowl LIII in a bashcub.com poll this week.
Some students also voiced their opinions on the big game with additional comments. Many Eagles fans voiced their frustration as a result of the Birds falling short in the divisional round against the New Orleans Saints.
"The Eagles should've been in it," lamented junior Emily Fanelli.
"RIP Birds," said senior Andrew Stauffer.
The other most common comment? A general disdain towards quarterback Tom Brady and the Patriots, saying they are cheaters and how the referees ruined the league. The comments reflect the controversy over refs not calling pass interference on a crucial play in the Rams vs. Saints playoff game and various controversial calls in the Patriots vs. Chiefs playoff game.
"Tom Brady's a spoiled little brat and if he doesn't win he's going to throw another temper tantrum," Cole Setzler said.
Nathan Wells said, "Patriots might cheat with the deflated balls again," a reference to the Deflategate controversy from 2014-15 season playoffs, in which Brady was accused of using deflated balls to help the team beat the Indianapolis Colts.
Oddly enough, however, when it came time to predict an MVP, 44.2 percent said Brady would win it, despite the team votes being in favor of the Rams.
"Tom Brady's legacy won't stop here," freshman Benjamin Antonio said.
And even though LA is who students want to win, many realistically believe the Patriots will come out on top, as does the Bleacher Report, which predicts the Patriots will win 33-28. This is the Patriots eleventh time in the Super Bowl, and Tom Brady's ninth; Brady is hoping for a sixth championship ring.
"I'm tired of seeing the Pats go to the Super Bowl but I think they're going to win," said one student.
Leave a Comment
About the Contributor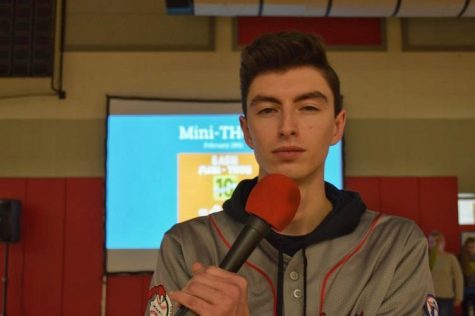 PJ Riddell, Sports Editor
PJ Riddell is a senior at BASH and a Sports Editor. He will be majoring in Broadcasting and Media Production at Messiah University beginning in fall 2020,...