Jones is Volleyball's Ace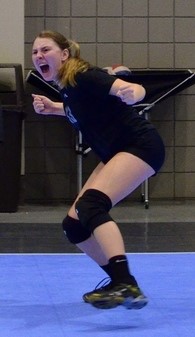 BASH has only had a competitive volleyball team for one year, but one of its players has already turned into a standout and is helping the team win a lot of matches.
Taylor Jones — who is being looked at by colleges and has also gone to nationals with her East Coast Power club team — is a key player on the Lady Bears, who are first place in their division and 6th out of 52nd in the district.
"I want to be remembered as the girl who made an impact on the team and show other girls what I did," she said.
Science Teacher and Assistant Varsity Coach Ms. Bonnie Wood said Jones is doing just that.
"Her attitude rubs off on the team," she said. "She has the ability to make the team better."
Jones' main position is a setter and her secondary position is outside hitter.
"She's very intelligent and looks for holes in the defense and reads the team very well."
Part of what makes her great is her work ethic. Playing volleyball multiple seasons takes a lot of time, and Taylor really has to manage her to time balance her school life with her volleyball life.
"It's really hard sometimes," she said. "I bring my schoolwork on the bus, and during free time I do my homework."
Taylor said her favorite part of playing volleyball is spiking.
"I love hitting the ball because it is a stress reliever," she said.
Taylor's favorite teams to play against are Perkiomen Valley and Spring Ford. Boyertown beat PV twice, and they play Spring Ford on senior night.
"They both are really fun to play and the fact that we beat [PV] and we are a second-year team [was incredible]," she said.
Taylor plans to play in college and is being looked at by some colleges, but she has not committed anywhere.
Leave a Comment