Mr. Boyertown 2020 Called Off
The annual show is cancelled.
On March 26, junior Sarah White, one of two Mr. Boyertown Chairs, announced on Instagram that the 2020 show of Mr. Boyertown had been cancelled for the first time ever. The decision was reached by the school board and Dr. Foley.
Student Council adviser Mr. Jeff Kusniez shared the positives and negatives of the cancellation.
"The show is hilarious and that is something we could all use right now. It also raises a lot of money for charity," Mr. Kusniez said. "Right now it is better to be safe than sorry for anything. There are too many stories in the news about people that may or may not have followed the social distancing guidelines and still got sick."
Mr. Boyertown is an annual comedic talent show, where senior boys participate in a variety of acts in the hopes to be named "Mr. Boyertown." Previous shows have featured videos revealing a funny "secret" of the given person, as well as fashion and talent portions.
"Thank you to all the guys for all the hard work that they have given so far," Sarah White wrote on her Instagram story. "Stay safe. Stay healthy. Stay home."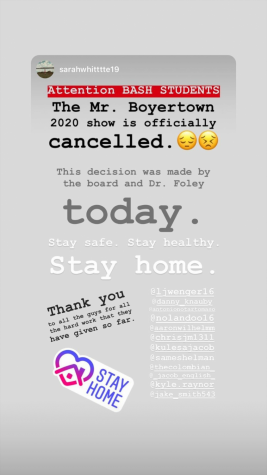 Aaron Wilhelm, a senior and one of the Mr. Boyertown nominees, is sad that everyone involved couldn't "shape our dream Mr. Boyertown."
"The cancellation makes me feel a little sad, but more of what it could have been," Aaron said. "We only managed to get about one practice in before things started shutting down."
Earlier in the year, many of the Mr. Boyertown participants were also involved in the Post Prom Fashion Show, an event where students dress up to raise money for the Post Prom.
"A lot of us showed at the Post Prom Fashion Show, so we were all pretty hyped up," Aaron said.
With Sarah White and freshman Ava DeSimone as this year's Chairs, Mr. Boyertown prep began after Thanksgiving.
"[They] really kicked things into gear once we got back from the Winter break," Mr. Kusniez said. "The first thing they did was nominations, which took about a week."
After nominations, Student Council met with the top nominees to gauge interest in participating.
"That got us to 11 boys and then we did a week of canning with the boys, which was for points and raises money for Mini-THON. This year they raised almost $1000," Mr. Kusniez said.
After Mini-THON, the group began rehearsing for the show. Rehearsals would be around 2-4 hours a week from mid-March to early May, according to Mr. Kusniez.
"In a normal year, this would be working on the intro dance, their individual talents, the interviews, the 30 second showcase dance, and a lot of video work for some other segments of the show," he said.
The main goal of the event is to have fun and "showcase the talents of some of our senior boys," Mr Kusniez said.
"The fact that we sell tickets and can make $2000-$3000 for charity at the same time is a bonus," he said.
Money from the event typically goes towards supporting Four Diamonds, a charity that combats pediatric cancer and is the main purpose of Mini-THON.
Leave a Comment
About the Contributor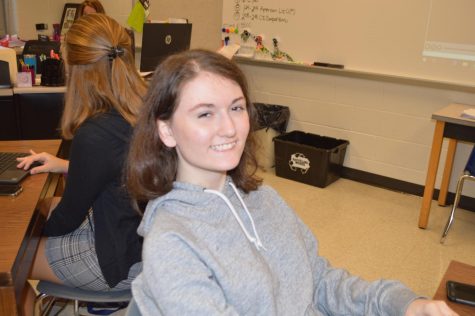 Jocelyn Lear, Editor-in-Chief
Jocelyn is a graduate of BASH. She served three years in the CUB and she previously wrote for the East Observer. She was in many clubs, such as SADD, Stage...