Mr. Boyertown Show Saved By A Superhero
The event raised a total of $1897.32 to fund pediatric cancer research at Four Diamonds.
On Friday night, senior and NJROTC member David Tulli was crowned Mr. Boyertown, showcasing his embodiment of Boyertown spirit: a superhero in an all-camo outfit with a green cape, fighting crime with a bow and arrow and riding a four wheeler.
Junior Blaze Myers, an audience member, was surprised but happy with David's win.
"I honestly thought Quincy would win," Blaze said. "It was unexpected, but totally deserved."
The comedy-talent show had ten contestants, including this year's Homecoming King, senior Quincy Coleman. Contestants performed a variety of acts, including an opening synchronized dance number to Britney Spears' "Toxic", revealing secrets, having a mentor comedically introduce them, lip-syncing, answering questions about themselves while showing off their formal wear, and performing talents. At the end, contestants performed the same dance number from the beginning, but with last year's Mr. Boyertown winner, senior Colin Brisbois.
The event was hosted by senior and school sensation Jake Kovacs, a BASH-TV member and this year's host of In-the-Hall. He kept the audience entertained with jokes and participated in several activities for the contestants. Student Council organized the night, with Taylor Kuszyk as the Mr. Boyertown Chair this year.
Mr. Boyertown managed to raise $1400 through selling tickets, as well as the individual contestants raising money throughout the school. During the show, they had a "magic minute" where contestants ran through the audience to collect money, earning $497.32.
All proceeds go to support Four Diamonds, an organization researching and combating pediatric cancer. Boyertown has a long history with Four Diamonds, hosting Mini-THON every year to raise tens of thousands of dollars FTK.
Judges for the night included Vice Principal Mr. Maoury, teacher Ms. Cymerman, Junior Class President Kyle Raynor, last year's Mr. Boyertown Colin Brisbois, and Mrs. Kuszyk. Contestants were Quincy Coleman, Nathan Michener, Noah Clinard, Jonathan Xhoxhi, Ryan Stettner, Brett Breidor, Dylan Wambold, Derek Dierolf, and Stephen Cisik.
Leave a Comment
About the Writer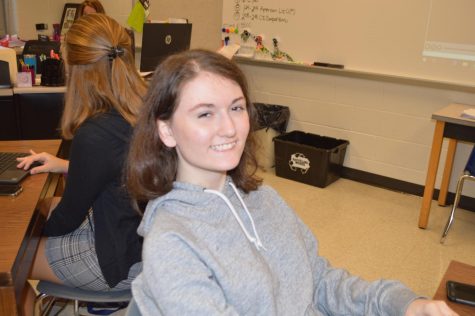 Jocelyn Lear, Editor-in-Chief
Jocelyn is a graduate of BASH. She served three years in the CUB and she previously wrote for the East Observer. She was in many clubs, such as SADD, Stage...