Incoming freshmen: Career pathways and course selection advice
Read about the system replacing the concept of the "Freshman Academies."
Last week, BASH saw a sea of fresh faces visiting from the middle schools for a glimpse into what their first year in the high school might be like.
Eighth graders in groups of about 11 were paired with duos of Link Crew leaders who led them in a tour around the school and shared anecdotes and tips. Many of the incoming students were excited and nervous.
"I'm a little bit nervous," eighth grader Emily Brennan said. "It just seems a lot more intimidating."
Others looked forward to the positives.
"I'm excited about more opportunities and more freedom," said eighth grader Katie Blaszcyk.
Link Crew leaders couldn't have been happier leading the younger students around, with senior Paige Loftus citing how nice they are. Some hyped up the move to the high school.
"They should look forward to just a plethora of opportunities and more relationships, lots of friends," senior Claire Ortlip said.
Incoming students will be entering a changing high school dynamic, where the old prospective "Academies" have now been changed, before ever being completely implemented, into "Career Pathways." The idea was "morphed" from the old academy idea, as Ms. Evans explained.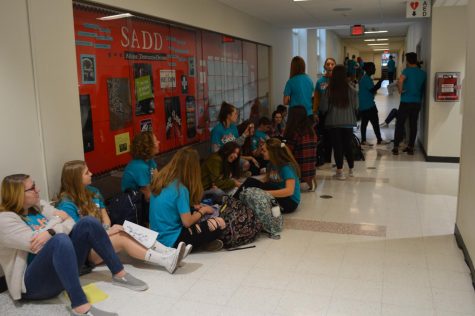 "Basically, the original idea was that there would be separate academies created so that students could specialize," she said.
With the passing of Act 339 in the PA Department of Education, also known as being the College and Career Readiness Act, many different standards were required to be put in place by schools.
"It basically said that every student needs to be college and/or career ready by the time they leave high school," Ms. Evans said. "We've had to adapt."
The new Career Pathways are designed as a way of recommending courses to students based on their interest in a field or career.
"What it basically means is like, if you're looking at your course card and you know that you want to be a nurse, you'd look in the program of studies under the more medical, science classes," she said. "No student is ever locked into a choice. There's no reason a student can't take music courses as well as STEM courses. The pathways aren't requirements. It's a game-changer."
The goal, in the long-term, is to help all 2,200 students in the school to be ready for life after high school.
"The academies were originally serving about 60 students out of 2,200," Ms. Evans said. "The goal is to get all students to examine where they want to go and how they're gonna get there, instead of serving just a small percentage of students. We're working hand-in-hand with Smart Futures to help with that, so that there's online inventories and activities."
Career Pathways offered include STEM (Science, Technology, Engineering, Math), VPFA (Visual, Performing, Fine Arts), GCBL (Global Communications, Business, and Leadership), HHS (Health and Human Sciences), and BCTC, the Berks Career and Technology Center.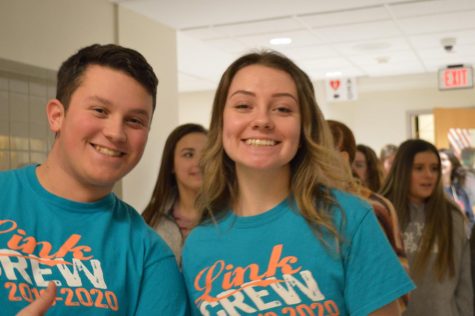 Despite these recommendations, students should still consider for themselves where their interests lie for course selection.
"Definitely take it seriously," Junior Connor Sargeant said. "I really like the telecom classes. Before I took them, I would have never known that I would like doing things like editing or filming. It was eye opening, a new experience, because you never really know you're gonna like it until you take it."
Counselor Mrs. Gallagher stresses for students to look at their own interests as well as go off of teacher recommendation.
"It's a good way to pick electives to feel out if that is something you want to pursue in the future or not, and that's what high school is all about," she said. "Before you go off and commit to something as a major or career, you can use these electives courses to kind of sample these areas."
Recent trends have shown more honors, AP, and CE/DE enrollment, while electives vary by year.
"Overall, more and more students are picking challenging levels, and we're offering more and more classes at the higher levels," Mrs. Gallagher said. "Hopefully there's enough interest and the classes will run."
Some trends include more cooking electives being taken when cooking shows were popular, more law classes being sought out when shows like C.S.I. and Law and Order were avidly watched, but some courses have remained fairly consistent. Other courses, such as Physics C, fail to meet student enrollment standards in order to run.
"There are certain classes in each departmental curriculum that are very popular, such as criminal and civil law, and materials engineering always maxes out quickly," she said. "Our music program is very popular, and many art courses such as ceramics always quickly fill. Computer courses have made a rebound since they've improved them to include certifications."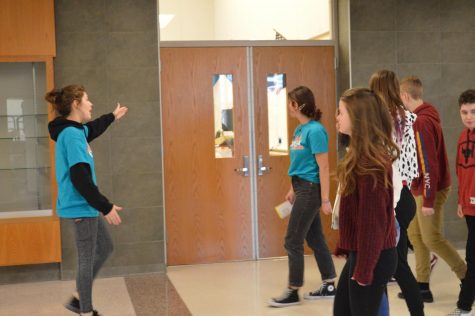 Many of the enrollment requirements are mandated by the school board, but the school administration tries its best to meet student requests.
"There are a couple of due dates, students have to hand their cards into their Social Studies teacher by February 7th," Mrs. Gallagher said. "Then the counselors will be going into the social studies classrooms to meet with students one-on-one, put their courses into the computer with them, and give them a pass to offer a meeting for when we're back in our office to go more in-depth."
Students can change their courses all the way up until May 15th by scheduling a meeting with their counselor, emailing the counselor, or having their parents call the counselor.
"Then administration begins to work on the master schedule where they take all the requests into consideration," she said. "They really try to accommodate what the students want."
When choosing courses, Mrs. Gallagher guides students to read the descriptions of courses in the Program of Studies available on the high school website.
"I think that many times students think there's nothing they are going to be able to get out of a class, but I think that any type of learning is good and profitable and you're going to get something out of it," she said. "Not everything is going to apply towards what you decide to pursue in college or post-secondary; however, any type of educational learning is of value. It might not be applicable to your job in the future, but it might be applicable to something around your house, in your home, in your relationships."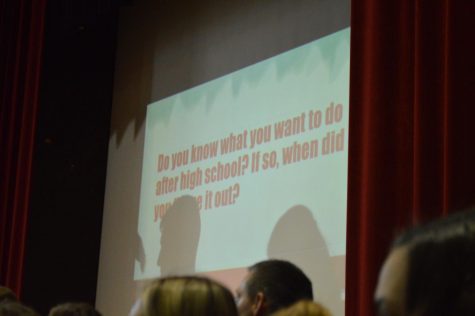 Leave a Comment
About the Contributors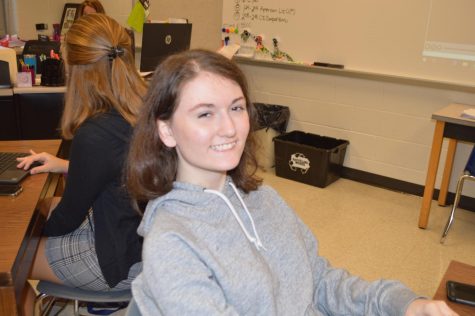 Jocelyn Lear, Editor-in-Chief
Jocelyn is a graduate of BASH. She served three years in the CUB and she previously wrote for the East Observer. She was in many clubs, such as SADD, Stage...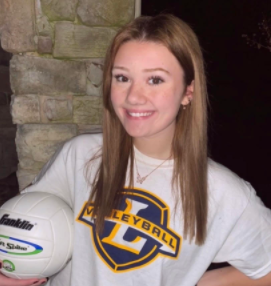 Jessica Ahart, Editor in Chief
Jessica Ahart is a senior at BASH that has written for The Cub and taken journalism for the past four years. She also previously wrote for the West Press...