Red Ribbon Week Brings Positive Message From Tragic Origins
Red Ribbon Week, an annual drug and alcohol preventive campaign run by the National Family Partnership through the Red Ribbon Campaign, has hit the halls this week in BASH, sponsored by the Boyertown chapter of SADD.
Students this week are encouraged to sign a pledge against drugs and alcohol, and to wear red ribbons to show their commitment.
This comes after SADD's last campaign, Green Out for Mental Health Awareness Day. In an effort to boost participation this year, Friday will be Red Ribbon Day; everyone is encouraged to wear their red ribbons, to show unified support for drug prevention. Specifically, SADD hopes to combat vaping this year.
Vaping has been a frequent problem at BASH, with administration raising penalties this year for any student found vaping in the school. A $50 fine, as well as tests and destruction of the vape, are among the penalties introduced back in August.
Origins of Red Ribbon Week, the nation's largest and longest running drug awareness and prevention program, come from a tragic event. The campaign began in 1985 as a tribute to Drug Enforcement Administration agent Enrique Camarena, who was kidnapped, tortured, and murdered in 1985.
Agent Camarena, who had been working undercover in Guadalajara, Mexico for four years, discovered that there was a multi-million dollar narcotics operation. Corrupt politicians in league with the drug traffickers kidnapped, at separate times on the same day, both Camarena and his pilot, Captain Alfredo Zavala-Avelar. Captain Zavala-Avelar suffered the same fate.
Red ribbons rose from Camarena's hometown of Calexico, California where residents wore them in his honor. At the time, they represented one person being able to make a difference. Today, they retain that message in addition to promoting overall well-being for youth.
Before becoming a national campaign, Red Ribbon Week spread throughout schools in California, reaching Illinois and Virginia.
The first National Red Ribbon Week, in 1988, was the first sponsored by the National Family Partnership. It was chaired by First Lady of the United States Nancy Reagan, who was also First Lady of California for nearly a decade. First Lady Reagan participated in significant drug prevention activism, coining the 1980s anti-drug phrase, "Just Say No."
Leave a Comment
About the Contributor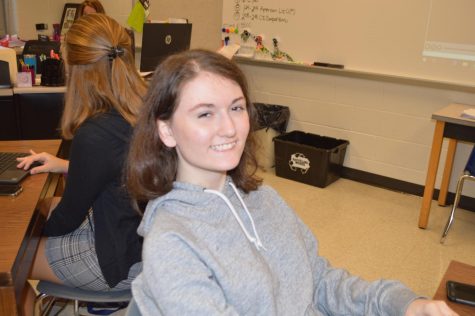 Jocelyn Lear, Editor-in-Chief
Jocelyn is a graduate of BASH. She served three years in the CUB and she previously wrote for the East Observer. She was in many clubs, such as SADD, Stage...