BASH Valentines traditions 1950's to NOW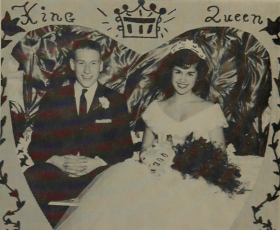 The traditions of Valentine's day at BASH have never failed to be celebrated going all the way back to 1950 to 1979, back in the 1950 students participated in many activities regarding the holiday. Back in 1952 BASH students participated in a Valentine Dance, there would votes cast for the royal couple each year. A snippet of the article that month stated, "Who received your bid for the King and Queen of Hearts? Their royal highness will make their debut at the annual Valentine Dance held in the BHS Gymnasium on February 16, at 8:30." The Valentine Dance tradition carried on into 1953 as well bringing along another fun addition. The "Cupid Caper Captures Coed" side bar hones in on students and their accomplishments, pertaining to their roles in the Valentines Dance.
But Valentine's Day traditions didn't stop there, during the years of 1980 to 1999 during these the cub was able to give many ways on whether to know if students were in love and whether the relationship would be worth it. "For those who are still in doubt, here are 12 straightforward ways of deciding whether it is indeed love!" This was an excerpt from the February 13, 1984 edition of the Cub titled "Are You in Love? 12 Ways to Tell." In the article there are bullet points about one's effects towards another, and whether or not they have been futile or fruitful." In the year 1989 the Cub wrote a brief contribution to the FBLA. This brief covered any things that FBLA had done over the holidays including the annual rose sale. During the sale many colored roses would be sold, with red meaning "I love you," pink meaning "I want to get to know you," and white meaning "I like you."
But in more recent years, like 2018,  students had the chance find their love match, through a BASH Cub survey. The announcement reads, "Thursday in homeroom students should have received a love math survey." The survey included questions for students to answer and the BASH Cub would find the most appropriate match based on the responses of students. But in 2019 students celebrated Valentine's Day in a sentimental way. Josh Gehman was a Boyertown student who passed away from brain cancer in 2011. During the 2019 pep rally for Mini-THON, his mother Cynthia shared his story. After a very touching story from Cynthia, many students had tears in their eyes. The story was an effective kickoff for Mini-THON, which raises money to support children who have pediatric cancer. And over $30,000 ws given to the Four Diamonds Fund in honor of Josh Gehman.
So while Valentine's Day has been celebrated in a number of different ways, it always held its place at BASH and will always be in the hearts of the school and students and will always have its meanings to different students, don't forget to spread love to the community and loved ones.
Leave a Comment