Late Boyertown Student Remembered at Mini-THON Pep Rally
Mother Cynthia Gehman shared the deeply moving story of her son, Josh, and his battle with brain cancer to kickoff the 2019 Mini-THON fundraising season.
Josh, who passed away in 2011 at 9 years old, attended Washington Elementary School. A number of students in the completely silent crowd knew Josh and all were clearly touched by the story.
"I truly believe everyone who met him was impacted by him," Mrs. Gehman said.
The story was an effective kickoff for Mini-THON, which raises money to support children who have pediatric cancer.
Before Mrs. Gehman's talk, students involved in organizing the event spoke about the results of the Coin Stall, this years preemptive fundraiser for Mini-THON. The Coin Stall required participating teachers to delay the beginning of class until they counted all of the change students brought in. So far, the Coin Stall has topped $4,000 and counting.
Boyertown has collectively donated $321,000 through the past Mini-THONs, leading to this years accumulated goal of $350,000.
Mini-THON's goal for just this year is $29,000. This is lower than the two previous years' goals of $45,000, and $50,000 last year. The reduced goal may be a result of the smaller turnout for Mini-THON last year, where $38,426.57 was raised in total. All money raised goes towards the Four Diamonds Foundation.
This year's theme is SpongeBob, based on the popular children's cartoon.
Mini-THON pep rallies typically have a featured speaker who shares a personal story about childhood cancer. In the past, former BASH Principal — now Daniel-Boone Superintendent — Dr. Brett Cooper has spoken about his brother who also passed away at a young age.
Mrs. Gehman moved many to tears, as she began recounting her son's story.
"From the moment he was born, he was an old soul," Mrs. Gehman said, noting his maturity.
When he started second grade, he became sick. "It almost seemed like a stomach bug that just wouldn't stop," she said.
Josh was diagnosed with a brain tumor, specifically Glioblastoma. It had already traveled to his spine.
"The day he found out was the day the Phillies won the World Series," Mrs. Gehman said. "Imagine being in the hospital, just finding out you have a brain tumor, and the Phillies win the World Series. He made all the nurses come in from how loud he was cheering."
Josh then needed to get two brain surgeries and 30 days of radiation. While he was at the hospital, he had to wear a mask on his face.
"He said he looked like a superhero with the mask," Mrs. Gehman said. "He did it with a smile on his face."
He was fine, "did everything he was supposed to do", she said, and after the 30 days of radiation, he was able to go back to school. Appointments for chemo changed to one day a week every other week, at which he had a choice to get an IV or not. Josh opted to get an IV every single session.
"He told me, 'Mom, I didn't have a choice to get cancer. I have a choice to get an IV'," Mrs. Gehman said.
The tumors were shrinking, and he was feeling better. But then they did more tests, and found the cancer has spread all throughout his brain.
"They looked like rice," Mrs. Gehman said. Josh suffered a stroke and seizures and passed away in 2011.
Leave a Comment
About the Contributor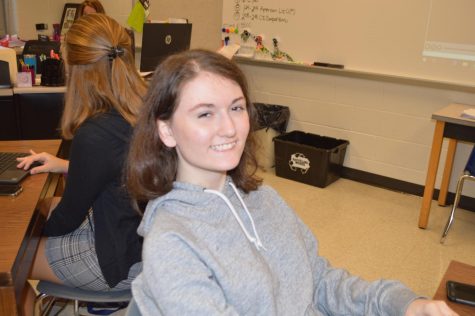 Jocelyn Lear, Editor-in-Chief
Jocelyn is a graduate of BASH. She served three years in the CUB and she previously wrote for the East Observer. She was in many clubs, such as SADD, Stage...