Be the light: Gorman delivers inspirational poem at Biden inauguration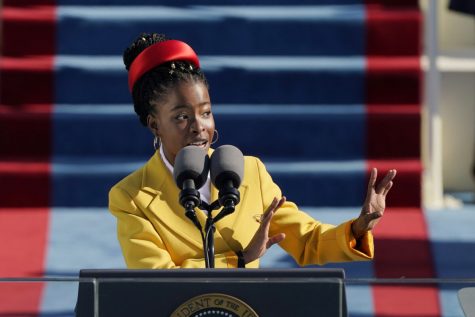 On January 20, 2021 at President Joe Biden's and Vice President Kamala Harris's inauguration ceremony, Amanda Gorman read an inspiring and breathtaking poem called "The Hill We Climb" that left people wanting more from this talented young poet.
Amanda Gorman, 22, became the youngest person to ever read at a presidential inauguration. Gorman said that she wanted her poem to "be a message of hope and unity." The poem was just that – it was full of motivating words that she had written in part after she saw the riots at the Capitol on January 6. She said that it was "the day that the poem really came to life. And I really put the pedal to the metal."
Many were moved by her words and her passionate voice, including Michelle Obama. She tweeted that "With her strong and poignant words, @TheAmandaGorman reminds us of the power we each hold in upholding our democracy. Keep shining, Amanda! I can't wait to see what you do next."
Oprah Winfrey also wrote, "I have never been prouder to see another young woman rise! Brava Brava, @TheAmandaGorman Maya Angelou is cheering – and so am I."
It turns out that Gordon wasn't always a talented speaker – she had a speech impediment at a young age, and is still battling it. "I had a speech impediment. And so I couldn't use my voice, then I would author my voice on the page. So it's really been a godsend and a lifeline for me," Gordon said.
Eventually, it came time when Gordon wanted to do more than just have her powerful words left on the paper. She wanted to speak to anyone who would listen. "And so once I arrived at the point in my life in high school, where I said, 'you know what? Writing my poems on the page isn't enough for me. I have to give them breath, and life, I have to perform them as I am.' That was the moment that I was able to grow past my speech impediment," recalled Gordon.
Once she was able to speak onstage, Gordon said that it felt amazing and powerful. "When I am on stage, I feel electric. I feel like I could breathe fire…like I am summoning the energy not only of myself but of my ancestors."
This ambitious young lady has performed five poems on "CBS This Morning" and has spoken at events and venues all across the country, including one at the Obama White House. To get herself ready for every performance, Gordon said that she recites a mantra out loud to herself that goes like this: "I'm the daughter of black writers. We're descended from freedom fighters who broke through chains and changed the world. They call me."
Gordon also comments that "Poetry is a weapon. It is an instrument of social change…and poetry is one of the most political arts out there because it demands that you rupture and destabilize the language in which you're working with. Inherently, you are pushing against the status quo. And so for me, it's always existed in that tradition of truth-telling."
Gordon has been writing and speaking all the way through college – she graduated from Harvard University in 2020 studying Sociology. She has gotten many honors for her work as well! As for the future, a children's book titled "Change Sings" written by her will be released in September.
Our people diverse and beautiful will emerge, battered and beautiful.
When day comes, we step out of the shade of flame and unafraid, the new dawn balloons, as we free it.
For there was always light.
If only we're brave enough to see it.
If only we're brave enough to be it.
Leave a Comment
About the Contributor
MaryAnn Leshinskie

MaryAnn is a sophomore this year, and this is her second year writing for the CUB. She's always looking for an interesting or strange event to tell...