"A Star is Born" Remake Will Leave You Crying
A Star is Born is an emotional roller coaster from beginning to end.
The movie is a remake of the 1976 movie about a famous rockstar (Kris Kristofferson) who falls in love with a young, talented singer (Barbra Streisand) and helps her launch her own career while his declines.
This time Bradley Cooper is the seasoned star (alt country instead of rock), Jackson Maine, while Lady Gaga plays Ally, the talented singer/songwriter. Cooper also directs the film.  
The film is full of joyful moments — when the two meet, sing together, and fall in love. But there are just as many sad moments, as Jackson battles his addiction and struggles with hearing loss.
Both Jack and Ally play their characters very well. Outside of music and film, Lady Gaga is glitzy, while in this film, she's toned it down a bit, which fits the movie well. When first discovered by Jackson singing in a bar, she's even a bit on the shy side. As she develops into a star with her face on billboards, she still retains a down-to-earth quality, especially in her singing.
Cooper also comes across as genuine, having learned to play every instrument for his part and doing all his own singing. Nothing is pre-recorded; he sang his heart out in front of the camera and gave it all he had.  The chemistry between Cooper and Lady Gaga also makes their relationship seem real.
But it's the music that really carries the movie and the plot. The main song in the movie, "Shallow", perfectly depicts the relationship between Ally and Jack. The lyrics are about diving into a relationship as one and staying away from any influencers: "Crash through the surface, where they can't hurt us/ We're far from the shallow now." This is the first song the two sing together as a couple, describing their new, established connection. Cooper's "Maybe It's Time" describes his struggles with addiction, trying to leave the past behind him: "Maybe it's time to let the old ways die."
A Star is Born has people crying — both tears of joy and of sadness. As people cry for Ally and Jackson, they can relate to the high and low points we all go through in life.
Leave a Comment
About the Contributor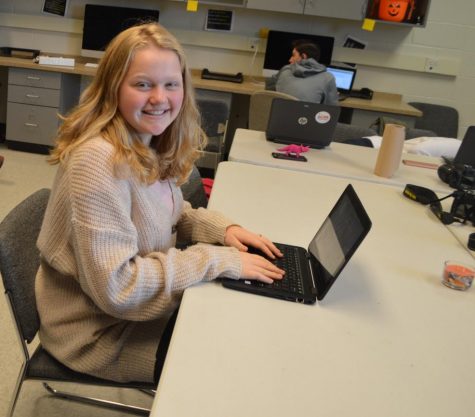 Casey Parke, Staff Writer
Casey Parke is a freshman at BASH in the CUB flex. This is her first year writing for the CUB newspaper and enjoys creating stories about current events...