Childish Gambino: Latest Video Brings Heat to Global Warming
True artists often put parts of themselves into their work, and rapper Childish Gambino is a true artist. Time and time again, Gambino's music is infused with his own personal truths, and his latest music video for the song "Feels Like Summer" is no exception.
The song, released in July, is from Childish Gambino's upcoming untitled fourth album. This album will be his last, as Gambino is retiring from rap, according to Billboard.
Coming months after the "This is America" viral music video — which tackles police brutality and gun violence —  the message of his latest video is much less politically charged. Instead, Gambino takes a much subtler route, but still tackling a controversial issue — climate change.
The video opens with a cartoon Gambino walking down a street at sunset. The camera then pans over to a couple of people in a car, representing artists 21 Savage and Metro Boomin'. Rappers Lil Pump and Trippie Redd are trailed by the camera.
This begins a series of celebrity cameos, a theme of the music video. Many of the cameos are rap, R&B, or hip-hop names, but there is a sprinkling of celebrities outside the music industry.
People as influential as Will Smith and Michelle Obama are represented in the video as well. Other especially famous cameos are Drake, Future, Chance the Rapper, Nicki Minaj, Travis Scott, Kanye, Jay-Z, Beyonce, Rihanna, Chris Brown, Soulja Boy, Kodak Black, and Migos.
Now, I didn't just write out a laundry list of celebrities for no reason. The cameos, of which I've only named nineteen out of fifty-seven, tie in with the big picture of the music video.
So does the music. However, watching the video, you wouldn't think so. The lyrics, which carry a subtle message about climate change, blend into the background of the video itself. People become so focused in trying to identify who is in the video, that the music almost disappears, and the underlying warning with it.
I'll be honest, my first and second time watching it, I paused the video every few seconds without listening to the words. It wasn't until my third time through that I began actually hearing the words. Still, the message didn't register yet.
But this is actually Gambino's whole point. Bouncing off "This is America," where a primary theme was entertainment distracting and complacing people from the horrors of the world, Gambino uses that same theme again. Using artistic brilliance, he shows how this problem applies to multiple issues.
"Feels Like Summer," is purely about global warming. At its core, that is the main topic. But the video digs deeper. Gambino illustrates once again how entertainment distracts us from the real issues, last time from oppression and this time from climate change.
The warning resonates especially in Pennsylvania, where we had an atypical two-week heatwave at the beginning of September. Last year, it didn't snow until January; in years prior, it's snowed on Halloween. Global warming is an increasingly dangerous issue, but it seems like no change is happening to correct it.
Movies and shows glorifying the heat draw our attention away from that issue, however. We get so caught up in entertainment or controversy or conflict that we forget. And Gambino uses that to emphasize his point; you can't refute his claim, because his videos are an example.
All great things must end, however. To close, Gambino himself turns towards a house after spending the entire video walking down the street. He walks up to the house and disappears inside it, the door closing behind him.
The camera doesn't follow him inside.
Closing the door, with the video ending immediately after, alludes to Gambino's announcement of retiring his rap career, he has said.
On the surface, Gambino's video isn't remarkable or thought-provoking. However, with deeper consideration it proves to be a piece that lives up to Gambino's reputation. Hitting subtly on an important topic by using an amazing subtext and striking visuals, it's truly a remarkable work of art.
Leave a Comment
About the Contributor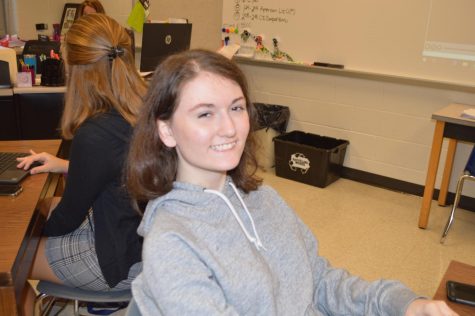 Jocelyn Lear, Editor-in-Chief
Jocelyn is a graduate of BASH. She served three years in the CUB and she previously wrote for the East Observer. She was in many clubs, such as SADD, Stage...