What Perception Means To Nate
The hip-hop rapper NF dropped his newest album Perception a few weeks ago, and it has climbed to No. 1 on the Billboard 200.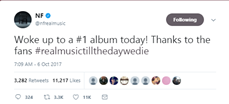 This is NF's third album, and like his others is very deep and personal, allowing listeners inside his mind.
"I just write what I feel," NF said in a recent interview posted on YouTube.  "I never start a song or an album saying this is what it's called, this is what it's about."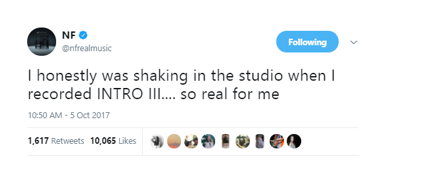 Nate's album starts out with "Intro III".  It follows up on a popular song "Mansion", which uses a house as a metaphor for his mind, talking about each room in the house as a different emotion. Fear is a intruder in this house. In "Intro III" Nate posts the song as a fight between himself and fear: "Well, that's too bad now, Nate, shut up!"
His second song, "Outcast", is also very personal. It's about him feeling rejected, but at the same time he doesn't want to fit in.
"But I pick up the keys and I put on my Timbs and I stare at the locks and the tat on my skin and I think to myself, 'I don't wanna fit in'," he says. "I don't wanna blend in with you little rappin' idiots/I'd rather be the outcast."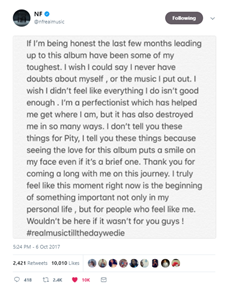 In the fifth song on the album, "Dreams", he talks about his dream of becoming a rapper and how he got there: "If I took the hand that was dealt me then I would be nowhere in life/Yeah, I had to think smart, threw away the deck and got my own cards."
Four later songs on the album are about his love life and the difficulties he deals with while falling in love: "I heard you told your friends that I am not your type/ if that's how you really feel then why'd you call last night?"
In another song, "3 a.m.", he raps, "First time that you ever told me that you loved me, I know that was probably weird for you/'Cause I didn't say it back, I'm so caught up in the past."
His album concludes with a single, "Outro", a three-and-a-half minute freestyle rap, that ends with, "Three records, three years and this is just the beginning."
About the Contributor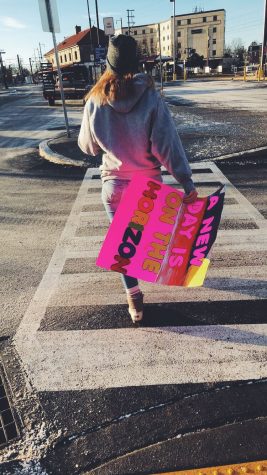 Casey Tremblay, Staff Writer
Casey is a Sophomore and a new student to Boyertown.

Casey is a huge student activist who in her free times enjoys making her voice heard around the...