Longtime Custodian Mr. Miller To Retire
Boyertown Area Senior High will bid farewell to a longtime friend with the retirement of custodian Mr. Miller on Monday, March 2nd, after a 45 year career of working behind the scenes.
Mr. Miller's time with Boyertown goes back to even before he was hired by the district in 1975. He himself is a Boyertown graduate, representing the BASH class of 1966. The caption accompanying his 1966 yearbook photo ends by saying, "Mike's philosophy: 'Never give up!'… future undecided." That undecided, post-high-school future would lead him on a series of twists and turns before leading him back to Boyertown.
"I worked at the Boyertown Body Works for about two years, then I was drafted into the Marine corps. I was in the service, for two years," he said. "After I got out of the service I worked [at the Boyertown Body Works] for another five years, and then got laid off."
After time in the Marines and being laid off from Boyertown Body Works, Mr. Miller's "Never give up" philosophy was put to the test; a test in which he held true to his word.
"I had been laid off for six months, and I kept coming to [Boyertown Area Senior High] and putting my name in every week," he said.
Finally, Boyertown agreed to hire Mr. Miller.
"[Boyertown] knew that I was willing to work, and take the lower job to start out," he said.
Mr. Miller's persistence paid off in landing him a job with the Boyertown School District, but he would still have to work his way up to the high school, once again testing his philosophy.
"In August 1975 I started back at the Washington Elementary school, and worked 4 hours each between Washington and the Ed. Center," he said. "I worked from 4:30 until 1:00 in the morning."
After a year working between Washington Elementary and the Ed. Center, an opening became available at the high school, and Mr. Miller seized the opportunity. Once he made it to the high school, he would go on to continue working there for the next 44 years.
On February 12th, the high school staff organized and threw a retirement luncheon in honor of Mr. Miller as an expression of Boyertown's gratitude for all he has done over the last 45 years. In yet another display of humility, Mr. Miller insisted he didn't deserve such a ceremony, as he was overcome by emotion.
At the luncheon, he gave a heartfelt speech to the staff in attendance.
"I just want to thank you all, you made my life worthwhile working here, and that meant a lot to me," he said.
The support he received from the staff at BASH was about more than just him, as Mr. Miller expressed deep thankfulness for the help his wife received as well.
"When my wife was really going through a lot of difficult situations, they were there to help us. You can't understand that feeling until you go through it," he said. "The staff, the teachers, and everybody here have been terrific. Their love and their friendship is the best gift I could ever get. It will last me a lifetime"
In retirement, Mr. Miller plans to continue doing what he has always done: helping others.
"My wife and I attend a small chapel, there are only about fifteen of us gathering there," he said. "The biggest thing my wife and I want to do is help them get to their appointments and stuff like that, because a lot of them are handicapped. That's what we want to do, we want to help them out."
In his final thoughts on his time here, he couldn't help but be overcome by emotions.
"I get emotional about [thinking about retiring], I always like to treat people like I want to be treated. And the people here have been wonderful to me, kind to me, and very loving over these past 45 years," he said.
Mr. Miller's life and career have reflected the two major philosophies he has expressed: never give up, and treat others how you want to be treated. His selfless devotion to his work for those around him defines the kind of person he was, is, and will continue to be after leaving the high school. On behalf of everyone here at Boyertown Area Senior High, we wish you, Mr. Mike Miller, all the best in retirement, and thank you for your selfless work over the last 45 years.
About the Contributor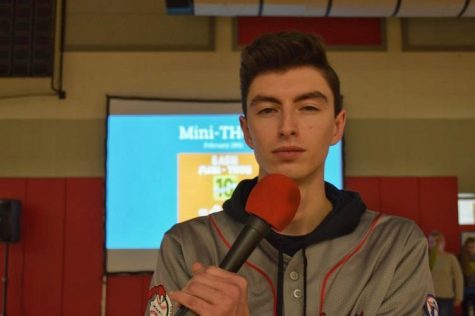 PJ Riddell, Sports Editor
PJ Riddell is a senior at BASH and a Sports Editor. He will be majoring in Broadcasting and Media Production at Messiah University beginning in fall 2020,...