COLUMN: The Return of Derrick Rose (and Why It Matters)
In June of 2008, a guard named Derrick Rose was taken out of Memphis University with the first overall pick in the NBA draft by his hometown Chicago Bulls. In 2011 he became the youngest MVP in the history of the NBA.
In 2012 Rose tore his ACL in a playoff game against the Philadelphia 76ers. In February of 2018 he was practicing in an empty gymnasium in Cleveland, hoping for just a ten-day tryout from any team. Uncertain of his basketball future, and looking like the epitome of the phrase "what could have been".
But that was Derrick Rose the player. Derrick Rose the Bull, the Knick, the Cav, the Jazz, the Timberwolve. That was not Derrick Rose the man.
Derrick Rose had already made plenty of money. He signed a $185 million dollar shoe deal many years ago, and has made about $100 million dollars in contract earnings within the NBA. He has played enough years to even receive a pension large enough that would make any person at work want to fall off a ladder to earn their compensation.
This is not about the money. This is something far deeper.
Deep down inside Rose, there must be that kid — that kid that got him out of the streets of Chicago, that kid that had the heart to forge such a talented basketball player. That is the part of Rose that won the MVP. That part of Rose has never failed him. Only his body did.
But in there lies the root of a greater problem within all of professional sports. We idealize these people, these humans, for their God-given athletic abilities and what they are capable to do under pressure. We live vicariously through sport on a day-to-day basis in order to escape from the troubles of daily life.
Don't believe me? Look up the videos of Philly after the Super Bowl.
Okay. Now you believe me.
But what happens when these athletes can't make the shot, or drop the pass, or let up the goal, or the run, or someone gets past them? What happens when these humans show that they are, well, human?
We praise the athletes like LeBron, or Jordan, or Gretzky who seemingly never faltered. But that is an unrealistic standard, and a myth as well. The truth is, we need to begin to accept some of these athletes as the people they are in daily life.
This may come as a disappointment to any sports fan. But our heroes are humans too. They suffer the same worries and frustrations. We shouldn't shame their faults, but we should embrace them when they are willing to return, even if they may not be as good athletically as they once were.

Rose doesn't have the physical ability anymore to take that kind of beating like he once did, night in, night out. But that's okay, because he has the heart to pull him through.
But it doesn't end with Rose.
Tennis player Mardy Fish suffered panic attacks that hindered his career right when he was peeking at top ten in the world. But after three years away, Mardy returned a restored man to the 2015 US Open, to go out on his terms. He lost in the second round. But it wasn't about his fall in the scoreline, it was about his resilience to comeback. No matter how he may have looked.
It's why Kevin Love has also returned following a set of panic attacks on court earlier in the season. He may not be the Kevin Love we remember on the court, but he is still Kevin Love the person.
It's why Joe Frazier may have been knocked down by Foreman six times, and the city of Philly begged him to stay down, but he didn't. It wasn't about winning, it was about getting back up. Smokin' Joe wasn't going to win, he wasn't going to look as good, but he was going to get back up.
And that is what this is all about. No matter how many procedures Rose has had, or games missed, or controversies. He has always gotten back up. 
He may be older, his game no longer as pristine, and his poster may not be on as many walls as it once was, but he is still playing. And it may be time we treat Rose, and other athletes like him, with more realistic standards. It may be time to treat them like humans.
And by the way, Rose was signed by the Timberwolves following the empty gym incident. He just dropped 17 points on the Houston Rockets. That wasn't Derrick Rose the shoe deal or Derrick Rose the Memphis scandal or Derrick Rose who left the Knicks. 
That was Derrick Rose with his Chicago heart scoring those points. Not because he needed the money, but because he needed to show the world he still is Derrick Rose the person. And nobody can ever take that away from him.
View Comments (1)
About the Contributor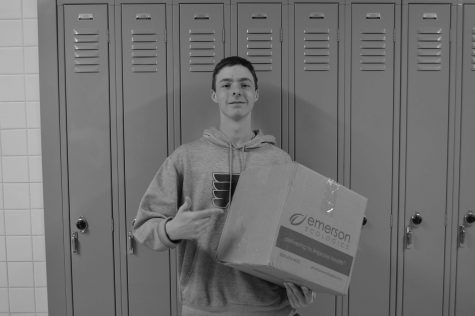 Joe Corcoran, Staff Writer
Joe Corcoran is from Gilbertsville, Pa. Joe is a Junior at BASH and this is his third year with BASH Cub. He plays on the school tennis team and outside...