Donald Trump: Potential indictment rounds off decades of legal scrutiny
Former President Donald Trump faces several criminal charges, potentially ending decades of legal scrutiny.
Trump is currently being investigated for multiple crimes, but his biggest three investigations are into an alleged former affair with an adult film actress Stormy Daniels in 2006, having more than 11,000 classified documents at his Florida home in Mar-A-Lago and for the January 6th Capitol Riot. The indictment in New York will become a monumental event in American history, and would make Trump the first former president to face criminal charges.
Michael D'Antonio, a biographer and author of "The Truth About Trump" stated that the indictment would be a "Shocking event, both because of the fact that a former president is being indicted for the first time, but also because one of the slipperiest people at the highest level of business, whose devotion to abusing the system is so well established, is being caught."
Stormy Daniels
American adult film actress Stormy Daniels, whose real name is Stephanie Clifford, is a mother to one and a controversial political figure in U.S politics and pop culture. Her rise to fame started in 2018 when the payment between Trump's former personal lawyer Michael Cohen paid her $130,000 in hush money to keep quiet about an encounter between the two in 2006, near the time of the 2016 presidential election. She received the money on october 27th, less than two weeks before the election.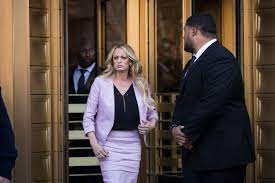 When news about the affair came out in 2018, it made international headlines and sparked a legal battle between Clifford and Trump's camp. Clifford filed a lawsuit to have the nondisclosure agreement (NDA) invalidated, claiming that Trump had never signed the agreement therefore making it not legally binding.
After the election, Cohen was reimbursed with a total of $420,000, to account for taxes and other costs. Trump signed some of the reimbursement checks himself and has admitted to repaying Cohen for the money he paid to Clifford but denies that the affair ever happened.
According to records received from the court, the Trump Organization's top executives falsely identified the reimbursement checks as a retainer for legal services. The Manhattan grand jury is surveying whether Trump committed a felony under the New York state law for falsifying business records to cover up a crime which is considered a felony in NY.
Clifford continues to speak out about the affair between the two and continues to draw attention to issues such as campaign finance violations.
Mar-A-Lago
In August of 2022, Trump's Florida estate in Mar-A-Lago was searched by nearly 30 federal agents to executive a search warrant where they had then found 11,000 documents, 100 of which were classified and a handful were labeled top secret.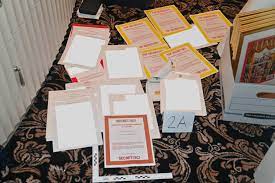 Attorney General Merrick Garland and the FBI director Chris Wray acknowledged approving the search warrant to be filed which was then approved by a federal magistrate judge on which President Joe Biden has denied ever having any advance notice about the warrant.
Following Biden's claim, a wave of criticism broke out from many of Trump's supporters and political figures. For example, House Minority Leader Kevin McCarthy stated that, "The Department of Justice has reached an intolerable state of weaponized politicization."
A large number of people, including conservatives, do not trust the FBI, America's most powerful law enforcement agency, because they believe that they have been enforcing the law in politically sensitive cases in order to show prejudice to the detriment of Republicans.
Since the search, Trump denied any wrongdoing, criticized the Justice Department's investigation, and called it "politically motivated" and a "witch-hunt." He also argued that some of the documents are protected by "privilege" which is a legal concept that would prevent the documents from being used in future proceedings.
The Justice Department believes that Trump may have violated the Espionage Act, an act that prohibits obtaining any information like recordings, pictures or copying descriptions of any information that can be used to harm or attack the United States or to the advantage of any foreign nation. On top of the investigation into the documents, prosecutors are also looking at obstruction of justice as another potential crime.
Nearly two dozen people who worked as staff for Trump at the Mar-A-Lago estate and members of Trump's inner circle have been subpoenaed to testify in court to a federal grand jury that's investigating the president's handling of the documents.
January 6th 
On January 6th, 2021 Trump allegedly controlled an attack on the US Capitol where his supporters entered the White House in an effort to stop the verification of President Joe Biden's election win.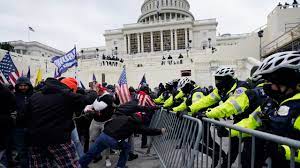 In response to being accused of starting the attack, he has denied responsibility for the protest and then criticised the congressional committee that he called a "kangaroo court" and has since continued to claim that voter fraud has taken place.
The U.S. Department of Justice has two ongoing investigations into Trump because of his possible criminal actions. Both are being led by Special Counsel Jack Smith who was recently appointed by Attorney General Merrick Garland in 2022. Smith is looking into the possibility of Trump's attempt to obstruct the 2020 election. Along with the investigation, prosecutors have been interviewing many of Trump's allies and aides. Former Vice President Mike Pence has also been subpoenaed.
The Congressional Committee which is made up of seven Democrats and two Republicans culminated their hearing by recommending that there be four criminal charges against Trump. The Justice Department's investigation has already led to hundreds of Capitol protestors being charged.
Trump has not yet been called in for questioning but it still remains a possibility, and he could also be charged of wrongdoing if the investigators believe there is enough evidence to prove so.
The Department of Justice investigations are still ongoing. For now, there is not much known about when the chargers would come, if there is any.
If Trump is found guilty of a crime can he still run for president? The short answer is yes, according to experts. While charges against a former president and a leading contender for the Republican party's presidential nomination would be unparalleled, the constitution does not say that criminal charges can prevent someone from taking office.
Leave a Comment
About the Contributor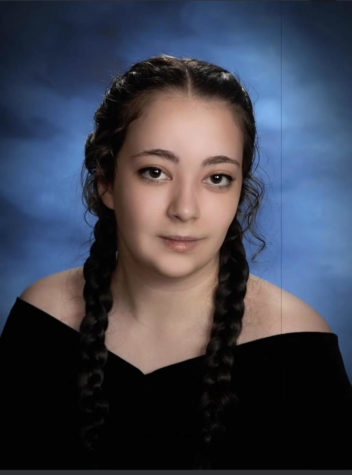 Bella Lenahan, Correspondent
Bella Lenahan is a senior at BASH and is in her second year of journalism. She loves watching and reading crime documentaries/ books.