Tragedy in Idaho: timeline of events
Six weeks after four University of Idaho students were found in a home near the Moscow, Idaho, campus on November 13, 2022, more information is coming to light. Law enforcement officials say that suspect Bryan Kohberger was taken into custody in Pennsylvania and is now being charged with the crime.
The four students involved were Ethan Chapin, 20, Madison Mogen, 21, Xana Kernodle, 20, and Kaylee Goncalves, 21.
On the night of Saturday, November 12, Kaylee Goncalves and Madison Mogen went out to the Corner Club bar in downtown Moscow between 10 PM and 1:30 AM, according to Moscow police. At about 1:40 AM, Goncalves and Mogen were seen on video at Grub Truck, a local food vendor, before getting back at 1:45 AM, police said. A man seen in surveillance video at the Grub Truck and the person who drove them home were not considered suspects, according to Moscow police.
Meanwhile, Ethan Chapin and Xana Kernodle, who were dating, went to the Sigma Chi house for a party on Saturday night. They also got home at about 1:45 AM, police said.
It's believed that the incident happened between 3 AM and 4 AM on November 13. Two other roommates, who had survived the attack and are not considered suspects, also went out in Moscow Saturday night and returned home by 1 AM. A dog was also at the home, according to police.
Moscow Police Chief James Fry called it an "isolated, targeted attack."
At 11:58 AM, a 911 call from one of the roommate's phones requested help for an unconscious person, police said. The 911 caller's identity has not been released but police said: "multiple people talked with the 911 dispatcher."
On December 7, police said they were looking to speak with the driver of a white 2011-2013 Hyundai Elantra that was seen in the area of the victims' house early on November 13.
As the one-month mark hit, Moscow Police Captain Roger Lanier said police are "closely guarding the information that we've discovered at the scene because we want to protect the integrity of this investigation. Eventually, we're going to narrow in on exactly what happened and who did it."
As Idaho officials searched for answers, a suspect, later identified as Bryan Kohberger, who went to DeSales University for a bachelor's in psychology and master's degree in criminal justice and was attending Washington State University for his Ph.D. in criminology, was stopped twice by police for traffic violations on his trip from Washington State University to his family's home in Pennsylvania.
Kohberger and his father were stopped while driving east of Indianapolis, with the younger Kohberger in the driver's seat. They were first stopped by the Hancock County Sheriff's Office for speeding and then nine minutes later by the Indiana State Police for following another vehicle too closely, according to officials.
Kohberger, who was later arrested, agreed to be extradited to Idaho during his January 3, 2023 court appearance in Monroe County, Pennsylvania.
The police chief said, "No arrest will ever bring back these young students. However, we do believe justice will be found through the criminal process."
Leave a Comment
About the Contributor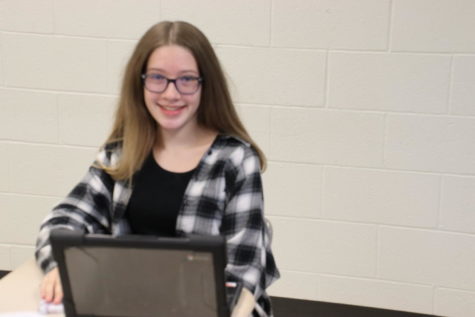 Emma Webster, Correspondent
Emma is a sophomore at BASH, and this is her second year working with the newspaper, along with taking journalism II. Emma joined as a good way to build...