New Rule at BASH
BASH has introduced a new rule that enforces all teachers to lock their doors while class is in session. Should a student show up late, they'll now have to knock and be let in.
The idea behind this rule is if an intruder gets into the building, all the rooms with students will be locked, so they will keep going until they find an unlocked door. "So the thought process is that they'll probably skip by each room," Says Officer French, a security guard at BASH. "What we are going to do is encourage teachers who aren't teaching to leave their doors open. That way if something happens you can go into those rooms and close the doors."
Some students aren't thrilled with the new rule. "I have to go from opposite ends of the building and I can't ever show up on time. I show up when the doors are locked and it's awkward," says Rea McArthur, a junior at BASH.
Teachers at BASH also have their thoughts about the new rule. Some teachers previously liked having their doors opened for a more communal, open, and welcoming atmosphere. Others like the idea of ensuring safety as the top priority. Mrs. Fine, an English teacher at BASH, understands both perspectives. "I have always had my door propped and I feel like it just makes the classroom feel more open, almost inviting" She replied "If it's what we need to do for ensuring student's safety then I understand it."
Due to recent implementation of this rule, the people of BASH are experiencing drastic changes, therefore we strongly recommend you get to class on time!
View Comments(1)
About the Contributor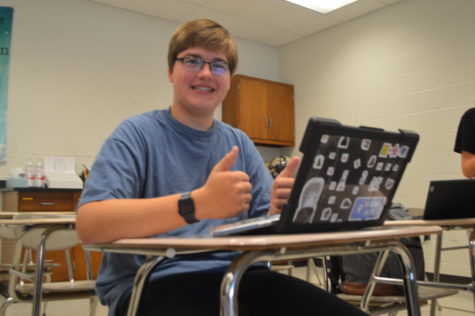 John Loos
John is a junior this year at BASH. This is his second year working with the newspaper and his third year taking journalism. He joined journalism for a...