13 U.S. Military members killed in bombing outside of Kabul Airport
On Thursday, August 27, 2021, 13 U.S. military members were helping to evacuate Kabul Airport when they were killed right outside by a suicide bomber. The bomb was a vehicle born improvised explosive device, or a car bomb. The military members were working to evacuate thousands of Americans and Afghan allies and immediately after the bombing, a gunman opened fire on the troops at the checkpoint and at the baron hotel which was currently housing British civilians. Currently, ISIS has claimed responsibility for this attack that has killed 11 Marines, 1 Navy Corpsman, and 1 Army Soldier.
The members killed are as follows:
David Lee Espinoza, 20, Marines
He is originally from Laredo, Texas, and he left behind a brother, mother, and his stepfather.
Dylan Merola, 20, Marines
He achieved the rank of Lance Corporal and is from Ranch Cucamonga, California. Merola was only in Kabul for two weeks before he was killed and students back home at his old high school even wore red, white and blue in his honor. He texted his mother that he would not be able to call and talk to her while on his evacuation assignment.
"He wrote…'I love you and I'll talk to you soon,' " said mother Cheryl Merola.
Jared Schmitz, 20, Marines
Schmitz is from St. Louis, Missouri, and had achieved the rank of Lance Corporal. He was even honored in a Facebook post by State Representative Nick Schroer. The State Representative has also made several other posts since Schmitz's death.
Kareem Nikaui, 20, Marines
He was originally stationed nearby at Camp Pendleton in California and he even sent his father a video of him talking with Afghan children and giving them candy at the airport. The video was sent the day before he was killed.
Rylee McCollum, 20, Marines
McCollum is from Bondurant, Wyoming, and was on his first deployment. He had only just graduated from high school in 2019 and was recently married and only 3 weeks away from becoming a father. There is a Go Fund Me page set up to help raise money for his child's education and it has raised well over it's goal of $5,000, which is very impressive and will be worth the while for his family.
Hunter Lopez, 22, Marines
He is from California and wanted to be like his parents after his deployment. He planned on becoming a sheriff's deputy once he returned home, to follow in his parents' footsteps. The family would like all donations made to the Riverside County Deputy Sheriff Relief Foundation in honor of  Lopez.
Humberto Sanchez, 22, Marines
He was a Corporal from Logansport, Indiana. Sanchez was only out of high school for 4 years when he was killed and had the Indiana State Representative Jim Baird posted and identified him, Indiana Senator posted on Twitter, and the Logansport Mayor post on Facebook indirectly about Sanchez.
Maxton Soviak, 22, Navy Corpsman
Soviak was a Navy Medic working with the marines in Afghanistan, since the Marines do not have their own medical field. He is from Berlin Heights, Ohio, and there is a Go Fund Me page started by a family friend as a memorial fund for Soviak.
Nicole Gee, 23, Marines
She was a Sergeant who originates from Roseville, California, and was a maintenance technician with 24th Marine Expeditionary Unit.  Gee posted an Instagram pic the week before she was killed talking about how much she loves her job and Sgt. Mallory Harrison, who was her roommate and friend from Camp Lejeune posted a painfully heartbreaking post about Gee on Facebook.  While Gee was deployed, Harrison was asked to look after her car and couldn't let the image of the car go when she stated, "Her car is still there & she's gone forever."
Ryan Knauss, 23, Army
Knauss was from Knoxville, Tennessee, and has been the first Army soldier to be identified from the attack. He had just completed Psychology Operation Training and hoped to move to Washington, DC, when he came back from his deployment. He left behind his Stepmother, Grandfather, and his wife, who he loved to help with her garden.
Daegan Page, 23, Marines
He hailed from Omaha, Nebraska, and was the 2nd Regiment of 1st Marine Regiment (aka "The Professionals") at Camp Pendleton in Southern California. Page planned to go to trade school after his deployment. He left behind his parents, step-parents, grandparents, four siblings, and his girlfriend.
Johanny Rosario Pichardo, 25, Marines
She was a Sergeant who was from Lawrence, Massachusetts, and was a member of the U.S. Marine Corps Female Engagement Team. Rosario Pichardo was also part of the Naval Amphibious Force, Task Force 51/5th Marine Expeditionary Brigade and was on the ground aiding in the evacuation that took place. At this time, her family wants privacy and want their loved one to be honored as the hero she was.
Darin Taylor Hoover Jr., 31, Marines
Hoover was from Midvale, Utah, and was a Staff Sergeant in the Marine Corps. He played football in high school and loved what he did in the marines and spent most of his life fighting for the country. The Utah Governor ordered that flags at all state facilities and public grounds be at half-staff through sunset on Monday, August 30, 2021, in honor of Taylor's memory along with all the other soldiers that have been killed.
This tragedy has changed people lives and has made the country grieve as a whole. For more information on the soldiers, click here. Our hearts go out to all of the families and friends of the soldiers that have been killed in this tragic bombing.
About the Writer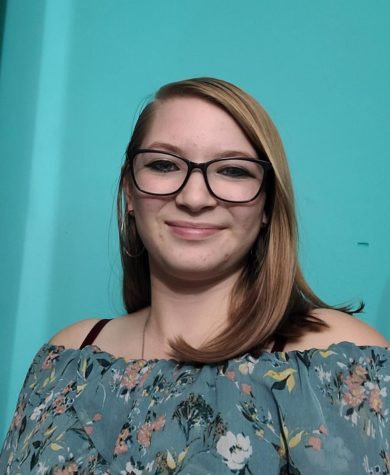 Cheyenne Williams, Editor in Chief
Cheyenne is a senior this year and it is her second year on The Cub, while she is also in her third year of taking journalism. She likes to write about...