School opening October 5, 2020
Starting on October 5, 2020, BASH students will enter the hybrid plan. This is when students go into the building for 2 days and stay virtual for the rest. The students who are going back in have been identified as either Group A (Monday and Tuesday) or Group B (Thursday and Friday), which are the days they will be in the school.  No matter what, all students will be virtual on Wednesdays.
Homeroom will now start at 7:40, the break period has been removed. class times are slightly adjusted, and the school day will still end at 2:45pm.
The doors to the school will not open until 7:20am due to precautions. Dr. Foley said, "We ask that car riders and student drivers remain in the cars until 7:20 as well to prevent congregating at the doors.  Please click HERE for more information and a map for our drop-off/ pick-up location and procedures.  Prior to entering the building, all students will be checked in by scanning their ID cards.  This will allow us to confirm what students are in the building for the day."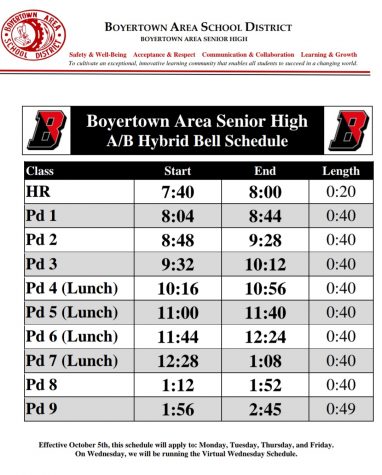 As for lunch, the lunch periods are still 4th, 5th, 6th, and 7th, but there are individual desks along with a few tables to keep students spaced out as much as possible. Students will stay in their seats and sign out individually instead of going with friends. Currently the school store is closed until further notice. Dr. Foley stated, "Up until, or before December 31, all students will be able to procure a free lunch.  It is important, however, that those families who qualify for free or reduced lunch still complete the yearly paperwork that can be found HERE.  This is incredibly important for many reasons, including, but limited to, technology fees, activity fees, future breakfast and lunch plans, and other ancillary fees." 
Students will not be using locker rooms for PE and they will be asked to carry their backpacks with them all day and to not bring any valuables or significant amounts of money to school.
Students will be asked to wear masks at all times except for when they are eating lunch. If a student accidentally forgets a mask, they are to report to the Main Office entrance and speak with personnel to receive one. If this becomes a habitual routine, a parent/guardian will be contacted and be required to meet with the school officials.
Virtual Back to School Night will be held on Wednesday, September 30 and information has been previously sent to parents. Freshman Orientation will also be on October 1st and 2nd.
For more information, click HERE.
About the Contributor

Cheyenne Williams, Staff Writer
Cheyenne is a junior this year and it is her first year on The Cub, while she is also on her second year taking journalism. She likes to write about anything,...