Virtual Commencement Ceremony brings a message of unity
Opening with a rendition of the "Star-Spangled Banner," by the BASH Choir, the Class of 2020 gathered around TV and computer screens today to watch their virtual graduation. After a few words from Principal Dr. Foley, the Class of 2020 Senior montage produced by PJ Riddell premiered, showcasing clips from sports games, dances, and moments around the school.
"I would like to thank our Class of 2020 for being so resilient and thoughtful as they continue to persevere during these uncertain times," Dr. Foley said. "You've been respectful and you will be successful in all that you attempt. I will truly miss you."
Class Officers, comprising of Class President Kyle Raynor, Public Relations officer Emma Elwell, Secretary Samantha Haggert, Vice President Ann Marie Howald, and Treasurer Derick Basile, introduced many members of the school district.
"Finally, the Class of 2020 would like to acknowledge and thank our high school administration," Ann Marie said. "Building Principal Dr. E. Wayne Foley, Principal to the Class of 2020 Mr. Andrew Maoury, Principal to the Class of 2021 Mrs. Karen Evans, and finally Principal to the Class of 2022 Mr. Jared Sparks."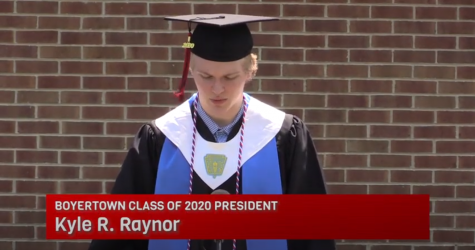 Senior Kat Kovatch sang the class song, "The Nights," by Avicii, with a montage of photos submitted by the seniors playing during it. The Valedictorian, Ann Marie Howald, then spoke on how she found inspiration not from well-known historical speeches, but from Jason Kelce's Superbowl parade speech.
"Every fan won when the Eagles hoisted the Lombardi trophy. Similarly, members of the Class of 2020 all have one thing in common: we all lost," Ann Marie said. "We lost our normal graduation, our scheduled prom, our awards ceremony, our senior nights, and our last proper day of high school."
Due to COVID-19, the school year was cut short, severing any hopes of a normal senior year. Luckily, BASH has been providing opportunities to celebrate graduation as much as possible: in the past, there was a small stage set up at the main entrance, and in the next few weeks seniors will have the opportunity to walk across the auditorium stage for a diploma picture. Additionally, the Class Officers have been working to for a prom on July 31st, given that the county is in the green zone by that time. Earlier today, teachers dropped off goodie bags, diplomas, and awards to seniors.
Salutatorian Aimee Toscano then gave her speech, using an extended metaphor comparing the Class of 2020 to blooming flowers.
"Sometimes, choosing your future means letting go of your past," Aimee said. "In senior year, we bloomed bright and colorful. We started to figure out what we wanted to do, where we wanted to go. We made plans for seniors trips and proms and graduations that we never really got to see through because of the virus. This wasn't the year we wanted, that we dreamed about; instead, it was corona-cation. But let me tell you something that I learned from the musical Bandstand: Everything happens. Just that. But what matters is what happens after, how do you respond?"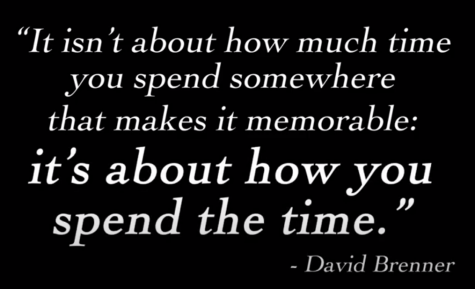 Class President Kyle Raynor then went on to address the Class with his speech titled, "A Message of Hope." In it, he spoke of the two middle schools uniting and becoming one throughout high school.
"The fact of the matter is, whether you live in Pennsylvania, New York, California, or Colorado, being a part of the Class of 2020 hasn't just been about taking the steps through high school as so many have before us," Kyle said. "Instead, it's about the strange journey that we've endured together."
The actual commencement ceremony showcased every student's senior portrait accompanied by their name and a short blurb that they could submit. Many opted for future plans, stating their colleges or majors, while others put in funny quotes. One notable one was from Phil Swift from Flex Seal, a popular internet meme, where a student quoted, "That's a lot of damage! How 'bout a little more?"
Closing out with a word from Superintendent Dr. Dana Bedden as well as submitted five-second clips from the seniors thanking their parents and BASH and congratulating each other, the Class of 2020 are officially high school graduates set to begin their lives.
"I want to first thank you for allowing me to serve as your Superintendent of schools," Dr. Bedden said. "I would also like to say how proud I am of you for showing your perseverance and diligence during one of the toughest school years that has ever existed in the Commonwealth of Pennsylvania and in the nation. I would also like to say thank you to your parents, your family members who have all stood with you and supported you during these difficult times. But most importantly, I'd like to say congratulations. Congratulations to you for reaching this significant milestone."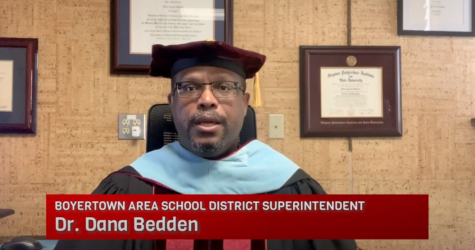 Leave a Comment
About the Contributor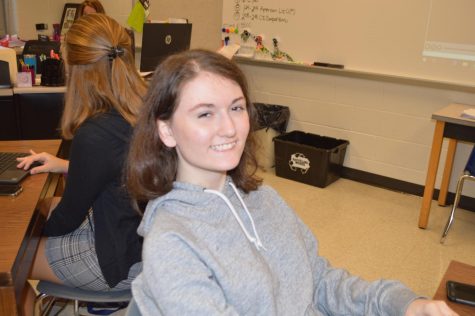 Jocelyn Lear, Editor-in-Chief
Jocelyn is a graduate of BASH. She served three years in the CUB and she previously wrote for the East Observer. She was in many clubs, such as SADD, Stage...