Seniors' Final Goodbye to BASH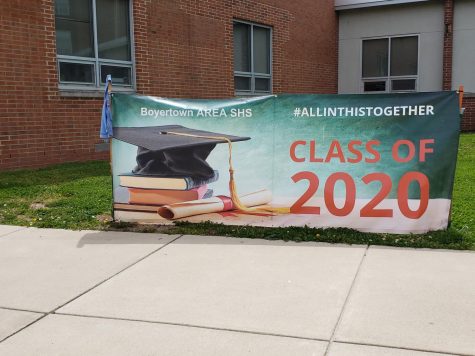 As the school year concludes under the most unexpected and strange circumstances, Boyertown Senior High's Class of 2020 got another chance to step foot on school grounds once again and say their last goodbyes through several stations around the outside of the school.
"The BASH administrative team worked together on creating this structure. If was pretty challenging because there were so many unknowns and we had to operate in the safest manner possible to keep all students, staff, and the school building itself "contact free" and maintain social distancing," Class of 2020 Principal Mr. Andrew Maoury said of the stations. "We do plan on having a similar structure in place for underclassmen very soon, but it will go quicker since we do not have to collect computers and there will be less items to hand out and collect."
As of the date of this publication, seniors were able to return to the high school this week to return books, see teachers again, and pick up caps, gowns, and diploma covers. At the school, students were able to drive up to different stations where teachers volunteered to help in shifts and wished the seniors well. There was even a "cheering section" located where the cap and gown pick-up was. Unfortunately, the seniors had to lose a normal graduation and have their prom pushed back, but this was a good attempt to make them feel like they're still being commemorated and recognized for their achievements and completion of high school.
To reflect on the seniors' past four years of high school, we asked them about how they are feeling knowing they're done, some of their favorite memories at BASH, and future plans.
"I feel as though it's kinda sad that it's over, and I was looking forward to spending my last few days in school with my friends, and going back this week will make me feel as though I never got that opportunity," Pavel Sotingco, member of NJROTC and stage crew, said. "And my favorite memory of BASH has to be all the craziness that ensued during musical season, especially with crew since we were always all over the place and having fun."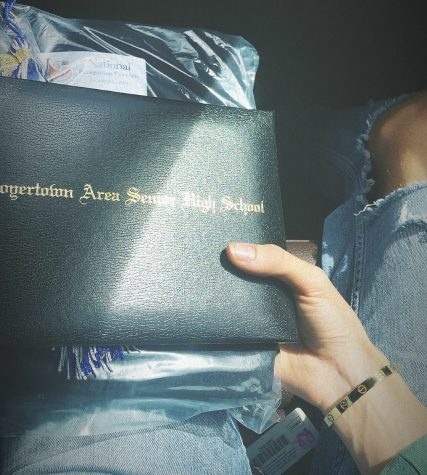 Other seniors are looking forward to the future that BASH prepared them for.
"I'm grateful for what I've been able to accomplish here at BASH and it'll definitely help me in the next steps of my life, along with continuing to talk to the great friends I made here," David Oke, who was a part of the track team, said. "Now, I pan to study engineering at Penn State University Park and get a master's degree. I hope to get involved with many activities there and meet more great people like I did here at BASH."
For many seniors, the trip back from Disney was jarring, arriving to a state-wide school closure and stay-at-home orders.
"I am truly upset the last time I was at high school not knowing that I'd never be coming back. I am more upset I was not able to say goodbye to friends and teacher," Julia Fluke, a student athlete, said. "My favorite memories would have to be playing lacrosse with my friends, although I've made thousands over the years. And my future plans are to become a kindergarten or first grade teacher."
Several students are grateful for this last goodbye to their teachers, and a chance to have a reason to go to BASH one last time.
"Before returning to the high school this past week, I was anxious and it was very bittersweet. I felt like I had to look around at everywhere I had memories like the movie cliches, but the staff and teachers made me feel so welcomed one last time," Delaney Geise, who moved to BASH from PJP in 10th grade and a member of BASH stage crew, said. "I'm applying to the spring semester at the University of Georgia, and if I get accepted, I'll be moving in with my family near the school and working in the fall. And if I'm not accepted, I will be attending Temple University. Either way, I plan to major in political science and double minor; one of which is Spanish."
The experience didn't only affect seniors, however.
"It was definitely emotional," Mr. Maoury reflected. "Staff and students develop positive relationships with each other and it was nice to see friendly and familiar faces again. There were some tears, smiles, laughs, and goodbyes shared today. I particularly enjoyed congratulating students who made great improvements and developments from when they first started as struggling sophomores and blossomed into successful seniors."
Mr. Maoury, who became the Class of 2020 Principal last year when several administration changes happened, will miss the seniors.
"This class was very special to me, personally. I didn't start closely working with them until the middle of their junior year, but I quickly grew to appreciate their positive citizenship and successes both in and out of the classroom," he said. "The advice I would offer is to pick a path that will make them happy, develops pride in themselves, and benefits our society. This world does reward those who are good people and work hard."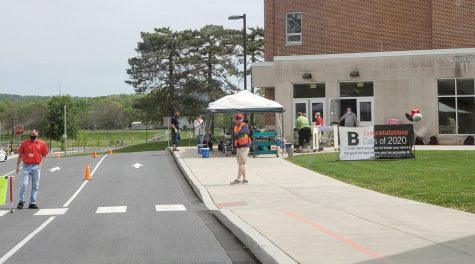 Leave a Comment
About the Contributors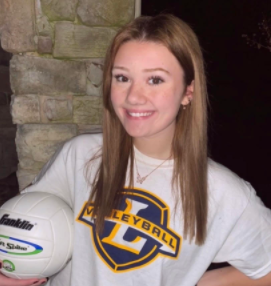 Jessica Ahart, Editor in Chief
Jessica Ahart is a senior at BASH that has written for The Cub and taken journalism for the past four years. She also previously wrote for the West Press...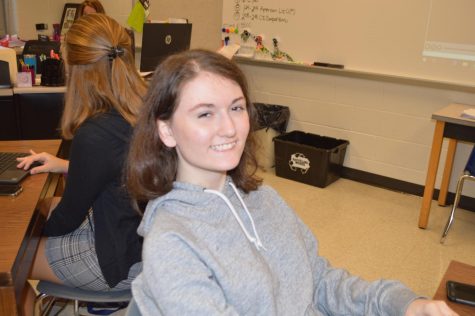 Jocelyn Lear, Editor-in-Chief
Jocelyn is a graduate of BASH. She served three years in the CUB and she previously wrote for the East Observer. She was in many clubs, such as SADD, Stage...