Wish week unwraps at BASH
Celebrating its tenth year, the event kicks off the last school week of the decade.
Wish Week, the week-long Student Council event, begins today and aims to spread cheer and make BASH a happier place. This year, Wish Week has a budget buff.
"The biggest change this year is the budget," Student Council adviser Mr. Kusniez said. "Usually we budget $500 for the gifts, but this year we bumped that to $750."
The new budget, stemming from the profits at the school dances, will help make previously unattainable wishes come true, as well as try to bump up the number of wishes granted: an average of 800-1000 each year.
"That won't necessarily help us do more wishes, but we will be able to do more quality wishes," Mr. Kusniez explained. "So the person that wants a Dunkin' Donuts Iced Vanilla Maple Frappuccino might actually get it this year."
Student Council has struggled with student complaints for their wishes not getting granted. This year, they've warned if any Student Council members hear a complaint, the wish is sure to not be granted.
"We have our budget, which helps a lot, but we also get donations from parents, teachers, other students, and staff members," Mr. Kusniez said. "The more donations we get, the more wishes we can grant."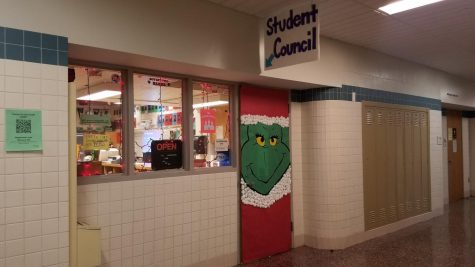 For wishes involving McDonalds or Chick-fil-A, Student Council needs a parent to run the orders to school.
"Last year, we had a parent that could make that run, so we could easily do those wishes. The student of that parent has graduated," Mr. Kusniez said.
Celebrating its ten year anniversary, the entirety of the school holiday takes about two months of planning, prep, and execution.
"We have been working on decoration wishes since November, making doors, snowflakes, trees, gingerbread men, and an assortment of things," Mr Kusniez said.
When it gets closer to December, organizing gets hectic.
"The month of December is really crazy, because we get the wishes in, sort them, schedule them, prep them, and finally deliver them," he said. "The closer we get to Wish Week, the more people that are in and out of my room. We also have a group that stays after school as well, from 3-4 almost every day."
Along with the bump in budget, the event has gotten a technology upgrade this year.
"We used to do paper wishes, but it took a long time to sort them and they were difficult to read at times," he said. "The Google form quickly allows us to categorize the wishes, and as long as the spelling is decent, we can read them."
After the wishes are sorted, the three "Head Elves" sort and start building the distribution schedule, making a shopping and donation list for items needed almost immediately. While wishes are granted mostly by Student Council members during their free periods, sometimes others grant them.
"Wishes are granted by other students or faculty members depending on the wish," Mr. Kusniez said. "That takes a lot of coordination because it involves people outside of Student Council. So if you ask for a wish that involves other people, you should be very, very happy if it gets granted, or not be sad if someone other than who you wanted shows up to deliver the wish."
Another big aspect of Wish Week is Elfus – the Student Council elf. Students may find him throughout Wish Week and take a selfie with him to receive free prizes at Room 419.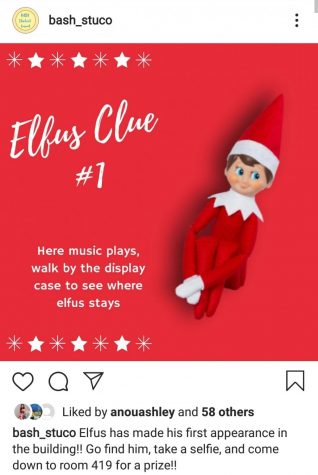 "We give out lots of different treats, from chocolate, candy canes, and cookies to other really random stuff," Mr. Kusniez said. "Sometimes he is easy to find, other times difficult and that is a factor as well. Make sure to listen to TV News and to follow the Student Council social media sites for more clues."
Ten years ago, Wish Week was just talk at a conference.
"I was talking to another adviser that did a similar program in his school. I loved the idea and brought it back to our Student Council that year, and they ran with it," Mr. Kusniez said.
The event was an outstanding success.
"The response was so positive that it has just expanded since then," he said. "We have inspired other schools to take the idea and run with it as well. Wherever it goes, people have loved it."
Out of Student Council's many events throughout the year, this one stands out especially to students.
"Wish Week is special because while we work very hard to make it happen, we get to see the results when we bound into a room and reveal a wish," he said. "The joy we get from giving and seeing people being genuinely happy is the best reward and knowing that we made a difference in someone's life is worth all the effort."
Leave a Comment
About the Contributor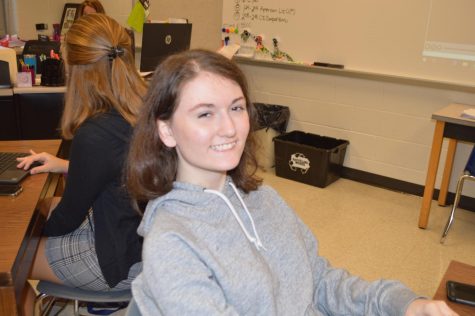 Jocelyn Lear, Editor-in-Chief
Jocelyn is a graduate of BASH. She served three years in the CUB and she previously wrote for the East Observer. She was in many clubs, such as SADD, Stage...