First Debate Club Meeting Brings Strength in Numbers
Boyertown Debate Club had their first meeting this past Wednesday, introducing their 39 members to the club and having their first debate of the year.
President Kyle Raynor introduced new members to officers Vice President Blaze Myers, Treasurer Tyler McIlhinney, and Secretary Jocelyn Lear. With this, he also introduced two new concepts this year to the club: a cyclical schedule, and elections.
After introductions, Kyle delved more into what Debate Club is really about: building your public speaking skills and your ability to debate. In order to do so, the club will be moving past (but not eliminating) group discussions, and widening into three additional topics: 1 on 1 debates, Debate Building Sessions, and "Other". The Other category is for more fun activities that aren't debate-centric but still build the same public speaking skills necessary for debates.
In addition, elections were also introduced. Contrary to last year, when Debate Club formed, this year they will be accepting more board members. One additional older officer — meaning junior or senior — will be accepted onto the board, while two younger officers — freshmen or sophomores — will be accepted to shadow and contribute to the club officer meetings. The purpose is so the club does not die with the class of 2020.
Debate Club's first debate was around the question, "Can polygamy be accepted as a healthy societal norm?"
The club officers pushed members to join Remind, and to follow the instagram, '@boyertowndebate,' where reminders and information will be released. Late registration was open for the first meeting, bringing additional members. Registration is open throughout the year through members of the club; if you talk to a member, they can talk to the officers and have you be included in the official member list.
Debate Club meets every other Wednesday in the Library Classroom after school, 3 to 4 p.m. The next meeting is announced for October 30.
Leave a Comment
About the Writer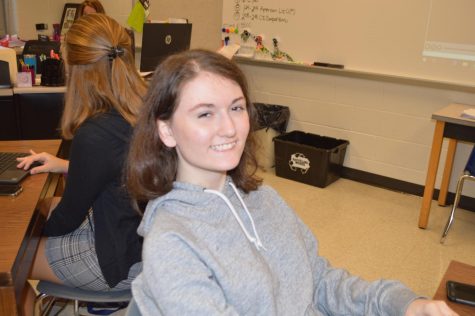 Jocelyn Lear, Editor-in-Chief
Jocelyn is a graduate of BASH. She served three years in the CUB and she previously wrote for the East Observer. She was in many clubs, such as SADD, Stage...