"Mamma Mia!" Brings Voulez-Vous to BASH
Mamma Mia! is set to be this year's grand musical, the second with director Mr. Hazel at the helm. Mamma Mia! was only released for high school productions this past year.
"Once we found out that the musical was released, we knew we wanted to do it," Choir Director Mr. Brunner said.
Mr. Brunner feels that Mr. Hazel, who teaches math at Junior High West, is a terrific, passionate, and caring director.
"He is doing a great job, and I look forward to doing many more musicals with him," he said.
BASH, known in the community for the outstanding musicals it produces, is gearing up for auditions for this year.
Auditions are on Nov. 4 and 6 after school, and any student is welcome. Those auditioning will need to prepare songs and lines from the audition packet, available in the music rooms. Callbacks are Nov. 7 after school.
"Only the kids that show us they aren't afraid to sing and dance their hearts out will be cast in this production," Mr. Brunner said.
Students interested in auditioning will need to sing one piece of music by themselves in front of others auditioning and the directors. Students will then act together and attempt to do a short dance that the directors teach them.
Everyone goes into auditions with even odds, Mr. Brunner said.
"You're chance is just as good as everyone else," he said. "You will never know if you are good at something unless you try."
He reflects on how "year after year," students that have never sang before have "wowed" them.
"They have ended up with great parts," he said. "We are willing to work with anyone that we believe has the potential."
Mamma Mia! has a large cast of 32-36 singers, actors, and dancers, which is a reason the directors like the show so much.
"Up to fourteen kids could be one of the main characters in this show," Mr. Brunner said, "where a typical show only has 6-8 leads."
All of the music is from ABBA, a well-beloved and multi-generational band.
"The music will be a challenge, but well worth it to hear the songs live on stage by a talented group of singers and musicians," Mr. Brunner said.
Musical season never truly ends for the directors; once one ends, the next begins.
Mr. Brunner and Mr. Hazel met immediately to pick the musical. On top of all of it, they spend countless hours designing the set, staging, picking props, preparing tickets, picking music, researching scenes, and many more responsibilities.
This heavy responsibility makes the directors look forward to audition time, when they "bring the kids back on board."
"That's what makes it worth all the time and effort," Mr. Brunner said. "We both enjoy working with the kids and nourish their talents."
Tickets will be on sale soon, set to remain at the $12 price of previous years.
"Mamma Mia! is a fun show that is light-hearted and funny," Mr. Brunner said. "We are hoping to 'wow' big audiences this spring."
Leave a Comment
About the Writer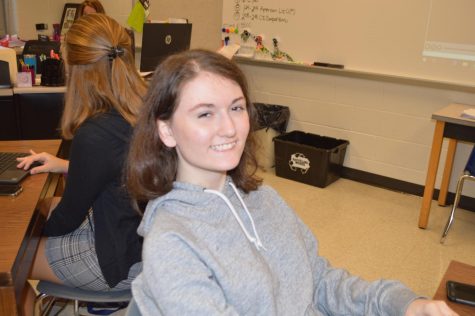 Jocelyn Lear, Editor-in-Chief
Jocelyn is a graduate of BASH. She served three years in the CUB and she previously wrote for the East Observer. She was in many clubs, such as SADD, Stage...