Drama Club Casts Actors for Spring Play
The cast list for the BASH Performing Arts Club's spring show Little Women was posted this week and is as follows:
Jo – Jillian O'Neill
Meg – Marlaina Garczynski
Beth – Tia Rossi and Victoria Hayes
Amy – Sydney Mulcahy and Rebekah Nester
Marmee – Catherine Stamm
Mrs. March – Kelsi McDevitt
Laurie – Blaise Miller
Mr. Brooke – Solomon Goldstein and Anders Miller
Mr. March – Anders Miller and Solomon Goldstein
Mrs. Gardener – Rebeka Nester and Tia Rossi
Sallie Gardener – Victoria Hayes and Sydney Mulcahy
Belle Moffat – Reilly Babb
Anne Moffat – Ann Schlecht
Auditions for BASH Little Women took place on Tuesday from 3-5 p.m. This is the largest production the Performing Arts Club has attempted since the club's revival last year by long-term substitute Mr. Kenneth Stanley; Spanish Teacher Mrs. Athena Baney is the club's new adviser.
Little Women is a two act play set in the mid 1800s. It features the lives of the March family, a group of four sisters whose father is away in the Civil War.
"[I chose Little Women because] I'm really familiar with it and I know that it has some really great female parts, and the male roles are very prominent, so they have a lot of lines and things that they're involved in," Mrs. Baney said. "I also really like the time period … and I love the costumes and everything, and I think the kids will too." 
This is Mrs. Baney's first year at BASH. She was excited to learn about the open position as drama club director.
"I was very involved in the arts when I was in high school and I wanted to be that person for other students," she said. She said she has always liked acting and wanted to try her hand at directing.
"I had a really good relationship with my chorus director and my drama director and I wanted to be that for others," she said.
Mrs. Baney said she's taking things slow during her first year as head of the Drama Club.
"I wanted to grow it a little bit and kind of strengthen the group," she said, "especially in their stage presence and ability to improvise, 'so we've done a lot of improv activities."
Leave a Comment
About the Contributor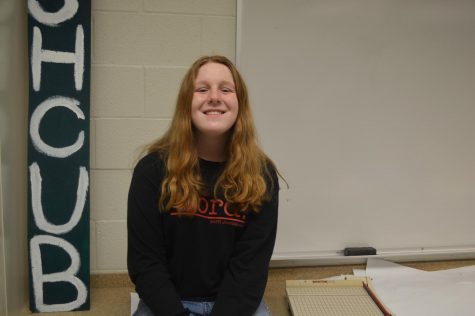 Marlaina Garczynski, Staff Writer
Marlaina is a sophomore who loves to read and write. In junior high, she wrote for the East Observer, but thinks writing for the BASH Cub is much more...