Musical Opens Tonight
The show has a new director
This year's annual school musical, Guys and Dolls, opens tonight under the direction of a new leader.
Mr. John Hazel, a math teacher at Boyertown Middle School West, is the new Stage Director, replacing Mr. Scott Didyoung, who retired in the spring after 37 years in the district.
Mr. Hazel "is a very talented actor and singer, and has a wonderful personality," said Choral Director Mr. Jeffrey Brunner, Vocal Director of Guys and Dolls.
Mr. Brunner is confident Mr. Hazel will continue Mr. Didyoung's legacy.
"Mr. Hazel will bring a new twist to the show, and his passion for directing will keep the shows at the level that the Boyertown community has come to expect," he said.
Senior Taylor Kuszyk, who will be playing Miss Adelaide, one of the lead roles, worked with Mr. Hazel during the Sound of Music a few years ago.
"He was really fun and super nice and I'm really excited to be able to work with him full time on this musical," she said.
Guys and Dolls follows Gambler Nathan Detroit, who needs $1,000 to rent a garage to host his big craps game. Nathan bets Sky Masterson that Sky cannot get the upstanding Sarah Brown to go on a date with him. Sky tries to negotiate a date with Sarah, while Nathan deals with his long time fiancee to clean up his act and marry her.
The show includes hit songs like "Sit Down You're Rocking the Boat", "Lucky be a Lady Tonight", and "A Bushel and a Peck". Shows will be performed from March 28-31, and tickets are on sale now for $12. It has never been performed at the school.
"We wanted to go with something familiar, but fresh for the community," Brunner said.
"It's a funny musical that involves lots of dancing and would be great for the Boyertown community," Kuszyk said.
Mr. Brunner said the students are having a marvelous time learning the songs and dance routines.  
"I believe the students love the show and are looking forward to becoming their characters," Brunner said.
"This is such a great cast and I'm excited to work with them to put on a great show. So come out because it'll be really fun," Kuszyk said.
Leave a Comment
About the Contributor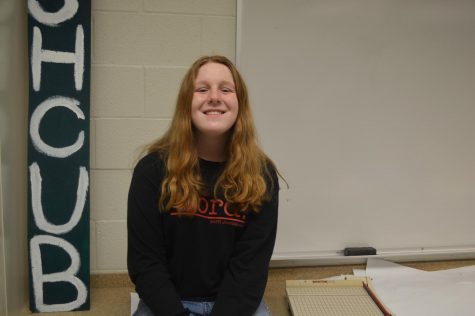 Marlaina Garczynski, Staff Writer
Marlaina is a sophomore who loves to read and write. In junior high, she wrote for the East Observer, but thinks writing for the BASH Cub is much more...