Dr. Cooper Leaving Boyertown to Work as a Superintendent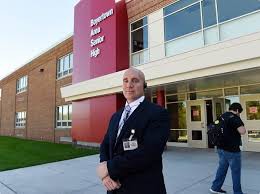 Longtime principal Dr. Brett Cooper announced his resignation to the Boyertown community Wednesday, as he has accepted the superintendent position at his alma mater – Daniel Boone School District.
Dr. Cooper, who has been principal 10 years, earning his doctorate along the way, said he was at the point in his career for a change.
"This was a special opportunity because I had a chance to return to my roots and work at my alma mater,"  he said.
The Daniel Boone School Board unanimously voted in Dr. Cooper, whose term will begin January 18. His contract includes five years with earning $155,000 a year.
Dr. Cooper will be taking the torch from Robert Hurley, who was serving as the intern-superintendent after James P. Harris resigned last August to serve in the Woodland Hills district in suburban Pittsburgh.
Dr. Cooper has been working with the Boyertown District for more than 13 years total, serving as the assistant principal for 3 years before becoming principal in 2008.
Originally a health and physical education teacher, Dr. Cooper worked in the East Lancaster School District from January 1990 to August 2005. He earned his undergraduate degree for health and physical education from Lock Haven University in 1989.
Originally, Dr. Cooper did not plan to go to college, he said.
"I wanted to join the Air Force and serve in the military," he said. "When I came back to high school after winter break in my senior year, I realized I wanted to go to college."
He met with guidance counselor at Daniel Boone Area High School, Mr. Ray Swisher, in February for assistance.
"[He] helped me with the mad rush to apply to colleges," he said. "I got accepted and chose Lock Haven, and 29 years later, I am here."
Assistant Principal Dr. E. Wayne Foley was approved at the previous board meeting to serve as acting principal for the remainder of the school year. The district also plans to find an intern vice principal.
"I'm sure Dr. Foley will be a part of the process to determine a new school principal," Dr. Cooper said.
As Dr. Cooper reflects on his time in Boyertown, he said the most important thing he has learned is to listen.
"There's a reason why you have two ears and one mouth," he said.
Listening is something he definitely plans to do in his new position.
"I will have an advantage since I was a student at Daniel Boone," he said, "but I will need to find a sense of current state in the district and form more goals from there."
Leave a Comment
About the Contributor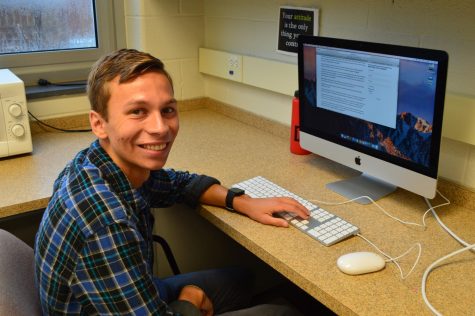 James Sahakian, Editor-in-Chief
James is a senior and Editor-in-Chief. This is his third year writing for the Cub. He is involved in journalism because he enjoys writing and reporting...