Choir Celebrates Diversity with Holiday Concert
BASH's choirs and orchestras incorporated various holiday traditions into their December 12 concert, performing Christmas classics along with Hanukkah songs sang in the Hebrew.
The night began with the select strings of orchestra performing "Christmas Eve/Sarajevo", arranged by Bob Phillips.
Then the concert choir, led by Mr. Jeffrey Brunner, sang "O Come, All Ye Faithful" before performing the Hebrew songs "Maoz Tzur" by Samuel Adler, "S'vivon," and "A Soalin',".
The reason for singing Hebrew songs was to involve all religious cultures.
"I remember hearing Hanukkah music being performed by professional choirs," Mr. Brunner said to the audience before the songs (Hanukkah was Dec. 2-10 this year). "It sounded so beautiful. I knew I wanted to incorporate this culture for the concert."
Senior Paige Horne said it was weird at first to sing in Hebrew, but she enjoyed learning something new.
"It was kind of cool since we never performed a Jewish song before," she said.
The Select Singers also sang "Ding-a Ding-a Ding", while Show Choir sang "Love Came Down", and "Up On the Housetop", with choreography being included in the performance.
Before a 10-minute intermission, the entire choir, led by senior Taylor Kuszyk, presented Mr. Brunner many gifts to display their appreciation of his devotion to the club.
"Mr. Brunner has worked very hard for us and we wouldn't be here without him," Taylor said to the audience.
After the intermission, the string orchestra, led by orchestra teach Mr. Christopher Cinquini, performed "Rudolph the Red-Nosed Reindeer" and "St. Paul's Suite," a four-part composition. Jazz band members arrived onto stage to perform with the orchestra with "A Most Wonderful Christmas," and the classic "Sleigh Ride".
The finale of the concert consisted of the full choir and orchestra performing together "Sussex Carol" and "Joy to the World". Paige, a clarinet and piano player, also played the organ for the final song.
"It was really cool to play the organ," Paige said, "but the part was really hard, so I was just trying not to mess up."
Leave a Comment
About the Writer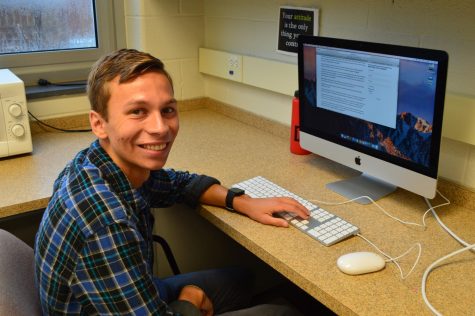 James Sahakian, Editor-in-Chief
James is a senior and Editor-in-Chief. This is his third year writing for the Cub. He is involved in journalism because he enjoys writing and reporting...