Band Wins State Title
This year's championship show was about the effect of technology.
The BASH band won the state championship this past weekend.
They were named Group 5A champions with a score of 91.613.
"I was really proud," Band Director Mr. Brian Langdon said. "I felt like the ensemble had a really great run. And when you have a really great run, it feels good as is, but when you get that justification from the judging community it helps solidify those feelings. We don't depend on trophies or placement to help us justify our hard work, but it definitely feels nice when we win that trophy."
This year, the theme of the band's show is "(Dis)Connected", which tells a story about how technology controls our lives.
Inspiration for this show came to Mr. Langdon in Toledo, Spain, during the music department's trip last year. The marching band got off the bus at a really picturesque spot, he said, and instead of just taking it in, most of the members took their phones out.
"I stood there and was like, 'Wow, instead of just standing there and enjoying this moment, they're trying to capture this moment'," he said. "But in essence by trying to capture the moment, you're losing the moment forever because you're looking at it through a screen instead of through your own eyes."
The first movement of the show emphasizes the discovery of technology, with the color guard displaying lights and audio tracks of morse code playing. Then, the second movement emphasizes the connections that technology helps make.
"People go off in pairs, showing how technology is used to bring people closer together," senior piccolo player Elizabeth Clarkson said. During this movement, the color guard has spiral phone cords that they dance with, and the music includes smooth, flowing songs, such as Pink Floyd's "Wish You Were Here".
Then, in the third movement, the music becomes very rhythmic, with clicking sounds, showing how technology has taken over people. Band members actually take out their phones during the performance.
"It's supposed to show that we're like zombies, controlled by out phones," senior percussionist Brandon Gero said.
The band goes into linear formations. Then, at the end of movement, instead of playing a big hit, as is usually done, people start dropping out of the performance, still on their phones.
Elizabeth plays a solo, "Simple Gifts", on her piccolo, surrounded by a circle of people who are ignoring her.
"Everyone circles around me on their phone, mindless," she said. "That's the whole point. It kind of turns at the end."
The performance overall shows people's expectations about technology — that it would bring people together — were wrong. "It shows we've become souless, mindless people," Elizabeth said.
The band will perform the show one final time at the Nationals competition in Allentown this weekend.
To get as far as it did, the band has been practicing since June, including two weeks of band camp in August. For Mr. Langdon and the band's technicians, the season began even earlier.
"Right after the new year we start meeting every two to three weeks to start planning the show and our drill designer joins us in March," he said. Meetings also included a music composer, ensemble arranger and other consultants.
"I would be curious as to how much it would be if you added up all the hours," Mr. Langdon said.
The show techs and design team are not the only people who put in extra effort to make the season so successful. Drum major Samara Rayco has been involved in band and orchestra since elementary school, playing violin and flute. She's been the drum major since 9th grade, when she led the junior high band, and has continued in that role with the high school band through her senior year.
She spends many hours practicing conducting to recordings of the show, to build up her endurance.
"Usually, when we get to the end [of a performance], my arms are so tired," she said, "but I push myself and push myself."
Samara believes that all the hard work is worth it.
"Any moment I make with [the band] I have always cherished," Samara said. "I definitely love all the concepts that Langdon has been putting out there these past four years."
Color guard members also put in a lot of hours of practice. One of those members, Nevethaa Rameshkumar, said her favorite moments of the season are show days.
"I just like how everyone is all together and we're all excited and hyped and everyone is happy."
Leave a Comment
About the Contributor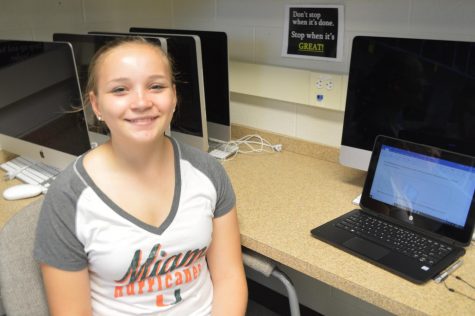 Emily Goetz, Sunshine Editor
Emily Goetz is a ninth grader who enjoys any kind of writing. This is her first year at BASH CUB and she looks forward to the opportunity to work with...