See You at the Pole Promotes Unity Among Students
About 40 students from BASH joined students nationwide to participate in See You at the Pole on Wednesday.
This is the third year the Fellowship of Christian Athletes (FCA) has sponsored the event, in which students gather before school for a few moments of prayer around the flagpole in the front of the building.
The national event began on September 12th, 1990, at a high school in Texas, when 45,000 students nationwide met at school flagpoles in an act of unity, and 28 years later, the tradition is still thriving.
Led by FCA Advisor and Physical Education teacher Mr. David Jones, Boyertown students continue the tradition here at home, 1,500 miles from where it all started.
FCA meets every Tuesday morning at 7:02. The club was started here by Sam Duffy, who was a senior here at BASH in 2015. During the morning meetings, in addition to praying, students get lessons from the Core Members on the Bible or various topics and have food.
The See You at the Pole event began with students singing along to Jones playing Christian songs on the guitar, followed by small group prayers.
"It's a national, Christian event, where we gather in community to pray over the school and each other," Jones said.  
The prayers revolved around issues facing students.
"In today's society I think relationships definitely need the most prayer," he said. "I also think mental health is a big one, especially with social media and technology; we really take those words that people write and say to heart.
The concept of unity is a recurring theme among See You At The Pole participants. FCA member and senior James Sahakian, in his third year as a part of the tradition, says the event endorses a more supportive environment at school.
" Even though things at school can seem very bleak or hard to get through, it's just nice to remember that I'm not the only believer here," James said. "Whatever struggles are on your heart, you can open yourself up to people who won't judge you, but try to help you."
Freshman Cole Kratz, who also showed up Wednesday, said he did so to help promote  unity at school.
"Everybody needs to really come together, and be supportive, and truly love one another," he said.
In a country divided, unity has become more important than ever.
"I think that's something that really hits home with people," Mr. Jones said. "We need to rely on our faith and our identity in Christ to be stronger than those words."
Leave a Comment
About the Contributor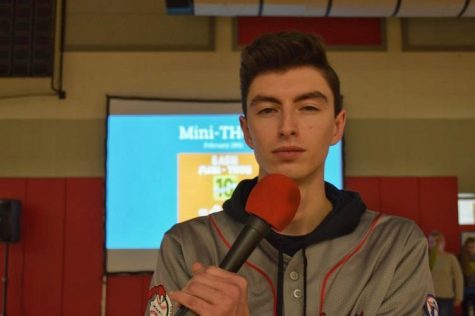 PJ Riddell, Sports Editor
PJ Riddell is a senior at BASH and a Sports Editor. He will be majoring in Broadcasting and Media Production at Messiah University beginning in fall 2020,...