Recent Threat Prompts Safety Discussion and Measures
In reaction to the school shootings around the country and to recent rumors of a threat here at BASH, the district is continuing to work on long-term safety plans, administrators say.
The school held an impromptu Town Hall meeting Thursday at 6 p.m. facilitated by Mrs. Marybeth Torchia, assistant superintendent for the district.
The meeting came after a threat by a student prompted extra police presence at the school Tuesday.
The threat caused a number of students to stay home and unleashed a social media storm, including Instagram polls about whether students should come to school, a Facebook page where parents have been sharing comments, and various Tweets from students.
Local news stations such as 6ABC news also ran stories about the threat and extra police presence at the school.
BASH Principal Dr. Brett Cooper said in an interview Thursday morning that the school finance committee has developed a three-phase plan for school safety that will be voted on June 12.
"We need to find ways to make sure we are providing the safest environment for students to continue learning and feel comfortable," he said.
The three-phase plan takes into consideration suggestions made during discussions students and staff had on March 14, the day of a National Walk Out around the country set up in reaction to the school shooting in Parkland, Florida.
Rather than allow students to walk out of the school for 17 minutes as a lot of other schools did, BASH designated 17 minutes for students to discuss how BASH could make them feel safer.
Dr. Cooper said the plan includes:
-Phase One has a one-time cost to implement more security measures, including more cameras, security, and buzzers
-The second phase will be a recurring cost to pay additional security personnel
-The third phase is implementing restrictions on student book bags and sports bag checks.
The school also has posted a one-page document called "BASH Campus Security Information" on the school's Website to inform the community about safety measures at the high school.
Mrs. Torchia said at the Town Hall meeting Thursday that the finance committee recommended spending $355,000 on security in all the district's building.
The Town Hall meeting was called in response to a social media storm about the threats made at the high school. An email went out around 3 p.m. Thursday announcing that a meeting would be held at the high school auditorium that evening at 6 p.m.
The meeting, which lasted about 2 ½ hours, started with Mrs. Torchia reading a statement. She said the purpose of the meeting was for the community "to hear timely, factual information".
The district also wanted the audience to have a chance to express concerns and ideas, she said, and to know that the district is doing all it can to make schools safe for students.
"We hear your concerns and take them very seriously," she said. "Our schools are safe."
More than a dozen parents and a few students came up to a microphone to speak. Many complained about the way information was communicated to parents and students about the threat.
In response to a parent's question about the timeline of events related to the threat made to the school, Mrs. Torchia said some students reported to BASH administrators on Friday May 25th that they overheard a threat by a student. Administrators did an investigation and did not find the threat warranted involving the police, she said.
"At no point was there ever a statement made to the administration that anybody was going to shoot anyone," Mrs. Torchia said. "That was not a statement that Dr. Cooper or Dr. Foley had collected from students that was what they overheard."
Chief Barry Leatherman of the Boyertown Police Department also spoke at the meeting, saying the school adequately investigated the rumors.
After the investigation Friday, Mrs. Torchia said, "there was conversation that went on, and social media pieces started to come up", which prompted administrators to send out two emails Monday evening, explaining that the student had received a disciplinary expulsion and that the threat was not of "viable/immediate threat which explains why nothing as communicated to families prior to the comments expressed this evening".
Mrs. Torchia said the individual who made the threat voluntarily agreed not to return to school the rest of the year and will not return next year. Another individual involved also will not be coming back to school, she said.
A number of parents and students said a lot of the rumors were started because the district did not do a good enough job of communicating with the community. They said felt they didn't have enough information to make a sound decision about whether to send their child to school on Tuesday.
"You guys are working on the macro, but it's more of the micro," said David Pascal, whose daughter is a freshman. "If there was no threat of gun violence per se, it needed to be communicated to the kids. You needed to be reactive immediately. I don't hear it coming from your side down to the kids."
Mrs. Torchia responded by saying, "It is something we're learning from." [The goal is] "that moving forward we're doing a better job of communicating."
A few students also spoke out, saying the school should hold an assembly or find a way to make sure everyone has the same information.
"This would be beneficial to feel safe in the school," Junior Grace Demento said.
The day after the Town Hall meeting, administration did talk to 9th graders about the threat at an assembly, and homeroom teachers read a statement to students in all other grades.
Mrs. Missy Woodard, assistant superintendent of academics, also said the school, along with a number of other Berks County schools, is looking into purchasing an app software called Crisis Go. "It is a comprehensive suite that allows for a rapid response" so there is better communication in a crisis situation, she said. 
Speakers made a number of other suggestions to improve safety at the district's schools. These included:
-having armed officers at the school
-having parents raise money to buy metal detectors for the school
-bringing in a consulting firm to do a safety assessment (Mrs. Torchia said a company Largo already has evaluated the school, and that is where the initial recommendations came from).
-have veterans come in to the schools
-provide more counseling support for students.
To watch the entire town hall meeting, click here.
Leave a Comment
About the Writer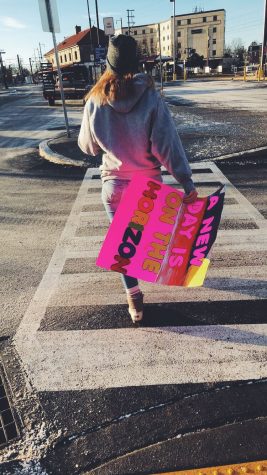 Casey Tremblay, Staff Writer
Casey is a Sophomore and a new student to Boyertown.

Casey is a huge student activist who in her free times enjoys making her voice heard around the...