New Gifted Program Adviser Hopes to Foster Creativity
This year, Mrs. Penelope Valentine, a former English Teacher, has taken over the school's gifted program.
Mrs. Valentine took over the program from Ms. Sue Burdick, who retired last year. Mrs. Valentine said she hopes the program gives students a place to be creative.
"I want to help you guys grow and encourage you all to be more curious," she said. "This program is really here to give gifted kids an outlet, that will help gifted students know themselves socially and emotionally."
Students are invited to be part of the gifted program based on standardized test scores. This year around 150 students participated. The students attend weekly seminars and meetings,  and complete a project to present to the class at the end of the year. They receive a Pass or Fail grade for meeting the requirements.
Mrs. Valentine said she also hopes to create a community, where gifted students from different grade levels get to know one another.
" I know a lot of times the grade groups are separated," she said, "and I want you guys to feel like you can reach out to each other."
Mrs. Valentine has taught for 28 years total, and in those years she has taught every grade from 6-12th grade.
"I was asked by Dr. Cooper to take on the new role as gifted teacher, and I was so excited," she said.
Freshmen and Sophomores worked on individual multi-genre projects, while juniors and seniors worked on portfolios. Some of the projects include:
-Freshman Marlaina Garczynski wrote stories for Bashcub.com.
-Freshman Solomon Goldstein's project wrote a play.
-Freshman Johnny McDevitt did a character analysis related to a favorite podcast.
-Freshman Mallory Johnson did a speed paint (a time-lapse of the process of a digital drawing) of someone skating on Saturn's rings.
-Junior Tia Rossi did a Powerpoint portfolio showcasing different projects she has done during high school, including plays she was in with the Performing Arts Club, her computer graphics projects, and a comic she drew as a social studies project.
Tia said she reflected on "how the skills she developed through the projects will help me with my future goals."
Leave a Comment
About the Writer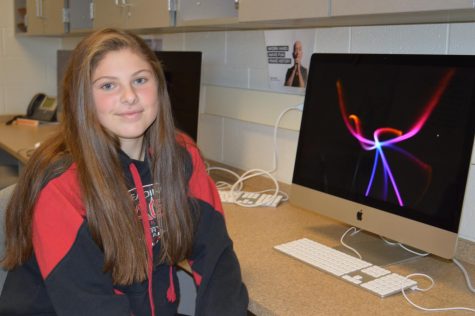 Kayley Mattis, Staff Writer
Kayley Mattis is a freshman in the journalism class. Her future goals are to become a physician assistant or any profession in the medical field. She enjoys...