District Letter Gives Guidelines, Restrictions for Planned National Walkout
Students cannot leave school but will be given time in class to participate in activities where they can share their views on school safety.
School administrators sent out a response Thursday to plans by students at BASH and nationwide to hold a walkout on March 14 to bring attention to gun violence and school safety.
The school made it clear that anyone who walks out will receive a detention or ISS. They are offering alternative activities to bring attention to the issue during an extended 3rd period class.
A letter sent out by Principal Dr. Cooper on behalf of BASH and the school district to students and parents said the school did not want to support a mass walkout due to safety concerns. On March 13, Acting Superintendent David Krem posted a letter on the district website, making it clear what was in Dr. Cooper's letter represents the views of district administration. Dr. Krem's letter said:
"The major concern with students leaving the building is their safety and welfare, because it is national public knowledge that on this day, students may be accessible to anyone who may wish to harm them. With this in mind, all administrators agreed that the safest position was to keep students within the building. Our plan provides a great deal of flexibility to participating students but, in keeping with the rules listed in the student handbook, students may not exit the safety of the building."
The district's letter is a response to social media posts that have been circulating about a 17-minute school walkout at schools across the United States at 10 a.m. on March 14 to remember the 17 victims in Parkland, Florida. The Women's March's Youth EMPOWER group is organizing it and calling it "Enough: National School Walkout". BASH students have posted on Instagram, encouraging students here to join the walkout.
Sophomore Kristen Sell, who had planned to walk out, said she changed her mind after the email went out.
"The email sent by Dr. Cooper persuaded me to stay inside, because the school is against students walking out, and I like the effort that they are making to make alternative activities helping to prevent gun violence instead of risking the safety of students and staff."
In place of supporting a walkout, Dr. Cooper's email said the school is offering three options during an extended 3rd period, which covers the 10 a.m. – 10:17 a.m. time frame:
– Write a letter to the student body of Marjory Stoneman Douglas High School. BASH administration will review for appropriateness of content and mass mail the letters to MSDHS.
– Email local legislators to share their position on school safety.
– BASH classroom teachers will provide a forum for students (those choosing not to write letters or email legislators) to discuss school safety for the 17-minute time period.
At least one student said she still plans to walk out. Sophomore Casey Tremblay said she still plans to walk out and has heard about a few other students who are also planning to do so. 
"Emma Gonzalez [one of the student activists from MSD] and her fellow students said they want change through action, and they don't want any more condolences because it means nothing to them," Casey said. "Sitting in our classes talking about our feelings is not going to change anything."
BASH sophomore Cadwyn Mossholder said she is considering walking out.
"I'm tired about Congress sitting around doing nothing, and I don't want the issue to get dropped," she said. "I want to bring more attention to the issue. We need a big display to do so."
Casey said her stepsister attends Owen J. Roberts High School, which sent out an email Thursday saying students had permission to join the walkout and gave them specific places they could go. They will close off campus to protect students who choose to walkout.
"Our administrative team and staff agree that student activism should not be discouraged, but the main focus is to continue the school day as planned," the email said. 
Perkiomen Valley High School is also giving students permission to walk out "if they participate in a peaceful manner on school property and then return to class", and it is closing off campus to the public during the time of the walkout.
"March 14 can be a positive learning experience for students on demonstrating civil discourse," the email said. It also says the principal will hold a roundtable discussion for parents on "Safe and Supportive Schools" on March 19.
Spring-Ford, Wilson, Parkland (in Allentown), Emmaus,and North Penn high schools, along with Exeter Jr. and Sr. High School are among area schools scheduled to take part in the 10 a.m. walkout, according to the event's website.
According to WFMZ, Reading High School students plan to gather in the school's hallways and either link arms or stand shoulder-to-shoulder for 17 minutes, while Reading Intermediate High School students will hold a peace march, walking around the Citadel's perimeter for 17 minutes. Students who don't want to participate will remain in the school's gymnasium.
BASH Sophomore Class Secretary Sammy Haggert said she had planned to walk out, but she changed her mind after Dr. Cooper's email went out because walking out could mean she could lose her class office position. However, a note she posted on Instagram encouraged others to walk out.
"I am absolutely saddened that Boyertown would not support something so needed in our country right now, and I ask all of you who support the movement to take action right away. Change won't happen if we just talk about school safety in class."
About the Contributor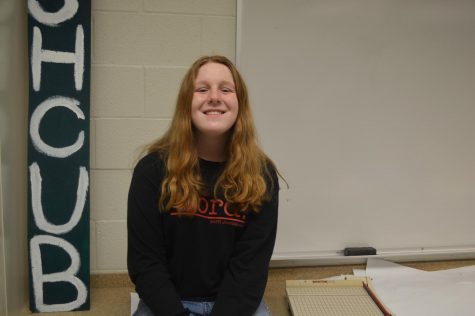 Marlaina Garczynski, Staff Writer
Marlaina is a sophomore who loves to read and write. In junior high, she wrote for the East Observer, but thinks writing for the BASH Cub is much more...