School Shooting in Florida Rattles Students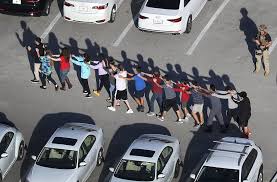 The mass shooting at a high school in Parkland, Florida, Wednesday has students thinking about their own safety and what can be done to prevent more of these kinds of attacks.
"It's scary to think that this could just happen anywhere at anytime," Junior Kylie Thompson said.
Seventeen people died in the shooting at Marjory Stoneman Douglas High School, which is north of Fort Lauderdale and has more than 3,000 students. Nikolas Cruz, 19, who had been expelled from the school, confessed to carrying out the attack with a semi-automatic rifle, according to a Broward County Sheriff's Office report released Thursday, the Associated Press reported.
The gunman opened fired near the end of school, after pulling a fire alarm. As the gunman moved through the school, he fired into five classrooms — four on the first floor and one on the second floor, Sheriff Scott Israel said.
The shooting lasted for three minutes. The assailant then went to the third floor and dropped his AR-15 rifle and the backpack and ran out of the building. He was taken into custody after visiting a Walmart and McDonald's, the sheriff said.
Many BASH students said they became aware of the shooting through social media.
"I found out by looking through Snapchat," 9th grader Danny Pritchard said, "and I thought it was terrible."
Joey Dulin, a 9th grader, said he heard about it on the radio. He said he has always felt safe at school, but hearing about the shooting was unnerving.
"I thought it was crazy," he said.
Some students want to see legislators take action to prevent further gun violence.  
"This is purely an American problem," Senior Miya Carmichael said. "Most other countries have banned guns or severely restricted them. How can we claim to be the greatest country in the world if we can't even figure that out?"
President Donald Trump sent out a Tweet and gave a short address about the shootings, saying more must be done about mental illness and that people should report suspect behaviors, but he did not mention guns.
"In all honestly, I'm heartbroken that 17 lost their lives to another shooting, and people still don't see this as a problem about guns,"  Sophomore Abigayle Nafus said. "The kids and adults were shot by an AR-15. Who needs an automatic rifle in their home?"
Some say guns are not only issue that has to be addressed. Junior James Sahakian points out that authorities were aware of the shooter's intentions because of things he posted on social media, but they did not take appropriate action.
"We can't just say people need to do stuff," he said. "They had the opportunity and didn't do anything about it."
Sophomore Alex Obarow said his heart goes out to the victims.
"It was a terrible and very tragic event," he said. "My prayers will be with the victims' families and anyone involved." 
Leave a Comment