Musical Maestros: Two Seniors Earn Places in Elite National Ensembles
Two seniors have earned spots in two national music groups, representing both Boyertown and the United States.
David Helmer, a tenor, is the first student from Boyertown to achieve being in the All-National Honors Ensemble Choir, while Dan Trout, who plays trombone, is the first student from Boyertown to accomplish being in the All-National Honors Ensemble Orchestra.
"They're heavily involved with all of the ensembles," Band Director Mr. Brian Langdon said. "They're very musically-driven individuals."
The process to be considered for a spot in the ANHE is long and stressful, both Dan and David explained:
Students begin at the County competition

From the County competition, the students progress to Districts where they audition to enter Districts, and then audition again for a placement.

Students who make it through Districts go onto Regionals, where they also audition to enter and audition again to place.

The State competition follows, once again auditioning and re-auditioning for placement.

Those who win States have the option of auditioning with a video recording for either All-Easterns, which represents the northeastern area of the country, or ANHE, which represents the entire country.
"There's so many people who are going for it, so you have to be very competitive to win; you have to have a level of confidence," David said. "You have to believe in yourself, because if you don't believe in yourself, you're done. There's no point."
Being a music student demands a lot of time. Both David and Dan have been involved in over 15 different music programs throughout their school career.
"I don't sleep too much," Dan said. "I have to make up a lot of work 'cause I miss a lot of days. Sometimes it's kind of hard, but it's worth it when you get to a performance and you're ready for it."
Their daily schedules are hectic and chock full of practice, practice, practice.
"I get to school, I play my trombone," Dan said. "I go to class, and after school I play my trombone. I have jazz band, concert choir, show choir, concert band, orchestra. I had marching band and chamber choir."
Likewise, David has a lot of after-school music activities, but he has a rough time keeping everything balanced.
"I'm really unorganized," David said. "I have to keep a log of what I have to do every day, and sometimes my academic teachers get annoyed when I'm not able to finish homework because I'm late at night practicing or at a rehearsal."
The music programs are a lot of hard work, but it all cultivates into breathtaking concerts.
"The music you create with the ensembles here is just beautiful, and being a part of creating something amazing like that is just worth it," David said. "The music department is all like a big family that's there to support each other, so signing yourself up for a music program is like signing yourself up for a big, welcoming family."
Dan said he feels fortunate to go to be in a district with such a strong music program.
"We get a lot of equipment and opportunities that not a whole lot of high school students get," Dan said. "So especially here, it opens up a lot of opportunities for you now, and also in college."
The students had differing starts in the music department.
David's parents are both music teachers.
"They kind of started me with that, and then I kind of fell in love with it as I got older."
He said he used to hate music because his parents made him practice many hours a day.
"Then I realized the better I got the more I enjoyed the music and the more I learned to appreciate it," he said.
Dan said he became interested in the trombone in 4th grade.
"When Mr. Jordan, the middle school teacher, showed up in fourth grade one day and pulled out this big brass thing that does the 'booow-wap' thing, I was like, 'Cool. There's no buttons, I like that one'," Dan said.
In the ensembles, the seniors have made friends from all over the country.
"I know at least four people from Georgia," Dan said, "one from California, three or four from New York at least, and a lot of people around the area and in eastern PA. It's kind of interesting to see who all is out there."
Both students hope to have some sort of future with music.
"[I want to do] singing, and some type of business," David said. "[I plan to] start with singing, then become an entrepreneur once I have enough money from performing to start funding local businesses and accumulating wealth from that."
Dan hopes to major in Music Technology at either Millersville University, Shenandoah University in Virginia, or Duquesne University in Pittsburgh.
"Music Technology is kind of like recording, but not," Dan said. "I'll find out more when I get there."
Outside of music-related activities, the students try to fit other hobbies in as well.
David plays soccer for a winter club and snowboards. "I'm a snowboarding instructor at Bear Creek," he said.
He also likes to do stop animation. "I just have a lot of interests."
Dan tried track and planned on joining the cross-country team, "but marching band got in the way". He has also done Boy Scouts, but he said that is almost over.
Overall, music is the biggest priority in their lives and holds a lot of meaning for the seniors.
"One thing a director said to me kind of stuck," Dan said. "The audience is coming out, and you don't know what kind of day they've had. You don't know if they got married or lost their child, but if they come to the concert, your job is to make them forget that for the time that they're there. Just let them be involved with the music and become so engrossed in it that they forget everything else. It's what I want to do with music, it's what I'm glad I can do."  
David also hopes his singing influences his audience.
"Music is a way for me to express my emotion through performance, in hopes to change people's opinions or views on a topic," David said. "I want to say a specific topic, but that's for the listener to decide."
Leave a Comment
About the Writer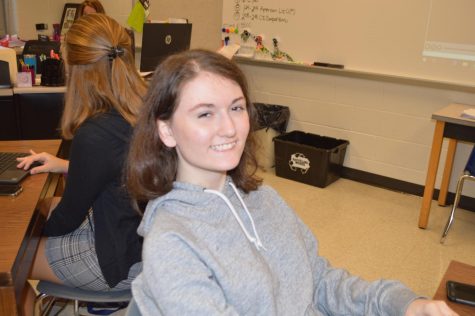 Jocelyn Lear, Editor-in-Chief
Jocelyn is a graduate of BASH. She served three years in the CUB and she previously wrote for the East Observer. She was in many clubs, such as SADD, Stage...