Teachers Push Themselves in Veteran's Day Contest
Money raised will go toward a memorial wall for BASH vets.
The highlight of this year's Veteran's Day festivities was the push-up contest, in which two teachers did double the amount of push-ups of past year's winners.
Ms. Gillman and Ms. Johnson completed 300 push-ups each, tying for the win.
Altogether, the contest raised $1,960 for a Veterans Memorial Wall that the History Club is trying to build for BASH graduates who have died in a war.
"Thank you for your support!" History Club Adviser and Social Studies Teacher Mr. Steve Bleiler said in an email after the contest.
The memorial wall will honor the at least 70 members of the BASH community that have died in action since the Civil War, Mr. Bleiler said.
"The design and location of the wall are still being worked out," he said. "It will be funded with this push-up contest, last year's push-up contest and the Class of 2016."
Students also participated in the pushup contest. Senior Nick Moccia won the boys student pushup contest by doing 99 pushups. Kara Forsythe won the girls contest by doing 50.  Each person in the contest solicited sponsors who donated a certain amount of money per push up (if they sponsored a dime a push up, and the contestant did ten push ups, $1 would go to the memorial wall).
In addition to the push-up contest, other Veteran's Day events included NJROTC students in uniform greeting the veterans. They form an honor guard tunnel and announce each veteran's name, rank and branch of service as they enter the building. The school also provided the 88 veterans with a breakfast and a lunch, and the choir sang to them.
Student volunteers escorted the veterans around the school, and 23 of the veterans spoke to social studies classes.
Ninth grader Seaman Antonio Davis, who is in NJROTC, said having the veterans come to school was inspiring.
"The veterans are people I look up to and see what I could become someday," he said. "They are motivation to keep trying."
Leave a Comment
About the Writer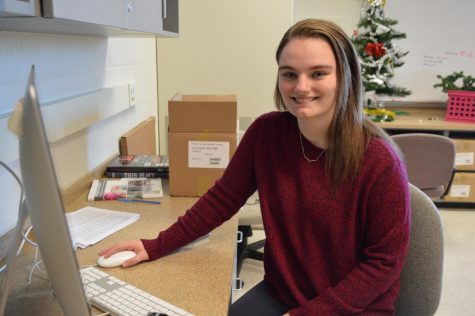 Shannon Ludwig, News Editor
Shannon is a senior who loves to write. This is her third year in CUB and she was a member of the East Observer. She also manages girls' volleyball, plays...