Library Gets 'Face Lift'
Librarians finished unpacking the last few books in the new and improved library last week.
"The last box was unpacked at 2:30 pm and today the last book went back to the shelf at 2 p.m.," Librarian Mrs. Melissa Gramp said in an email Friday.
Even though all the books were not on shelves yet, the new library opened on September 11, two weeks after school started
"The construction workers were still putting in the tiling at the front door [and] working on some odds and ends," she said. "Prior to that, we still had a ton of boxes and there were no places to sit. The delay was worth it though."
The library has more modern carpeting and furniture; a new sprinkler, HVAC system and lights, and a secondary classroom where rows of desktop computers use to be. The library will continue to add features to accommodate the 21st Century learner.
"Eventually, there will be counters so that you can sit up in high-top seating and you can charge your device," she said.
Students are back to gathering in the library in the mornings before the first bell (except for 9th graders, who must remain in the freshman auditorium).
Junior Jessa Felicione, who was there one morning this week working on homework, said she likes the setup of the new furniture.
"I like all the chair areas where you can sit with your friends," she said. "It does look nicer than it used to."
Freshman Erin Goldstein also likes the environment, saying it "is good for group work. I've worked on my bio project here a lot."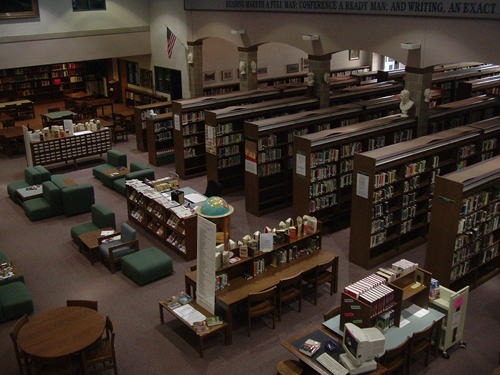 Junior Samantha Heckler-O'Connor said the new chairs are comfier. However, she is nostalgic for how things used to be.
"I liked the old library," she said.
Mrs. Gramp said the library has most of the old elements, such as 28,000 books.
"It's just been given a nice face lift."
Leave a Comment
About the Contributor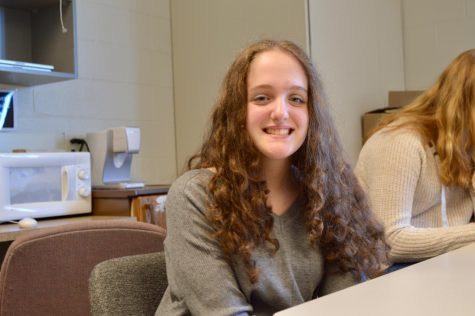 Samantha Hoffman, Staff Writer
Samantha Hoffman is a sophomore who loves to read and write, and she is a member of The Cub. She enjoys fiction writing and is involved in The Accent. Other...