Flex Enrichments Expand
The Flex Enrichment program, which originally started as a time to give established clubs and organizations more time to meet, has grown a lot in the past few years.
The first year, all that was offered were specialty homerooms like NJROTC, Student Council, and FBLA, Assistant Principal Mr. Andrew Maoury said. After that, some teachers and students proposed new enrichments, and 13 were offered. Last year, there was about 20, and this year the school is running 28.
"I think it's great that those opportunities are there for students to enjoy and extend their learning," Mr. Maoury said.
He is hoping in the future that many more students will benefit and enjoy being a part of an enrichment.
Some of the newer Flex offerings include the Future Millionaire's Club, Computer Hackers and Acoustic Songwriting.
Ninth grade social studies teacher Mr. Michael Costantino says that Future Millionaire's long-term goal for students is to help students go through the processes of starting and potentially running their own business.  Even if students don't want to start their own business or invest in the stock market, he said, they can learn skills that will help with whatever career they choose.
"It is an investment and business Flex, so they learn how to invest in stock market and also learn how to start a business and its basics," he said.
He also hopes to help students compete in a competition called the Diamond Challenge, where the students will compete for a grant to start their own business.
"It's a national competition that got started up a few years ago," Mr. Costantino said.
William Dahlinger attends the Yoga and Mindfulness Flex. He says it is a good chance to relax during school and it helps with the stress of homework.
Not only is it this enrichment a peaceful environment where students stretch and do various body movements, but it also teaches skills beneficial for the future.
"Yoga teaches you tactics on how to relax, especially if you're having anxiety about anything," Freshman Tiffany Shupinshki said.
An enrichment that offers students the chance to learn something new is Organic Chemistry, where students can get a jump start on one of the hardest classes in college by doing lab work and problem solving.
Ninth grader Jenna Dumrowsky joined organic chemistry for two different reasons.
"I took it because I really like science, and over the summer I bought an organic chemistry textbook from the GoodWill and it was really interesting, so I wanted to see more what it's about," she said.
View Comments (1)
About the Contributor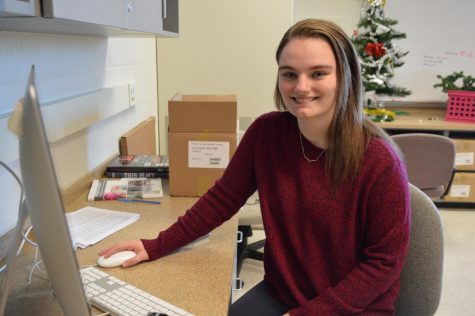 Shannon Ludwig, News Editor
Shannon is a senior who loves to write. This is her third year in CUB and she was a member of the East Observer. She also manages girls' volleyball, plays...