A foreign exchange student from Belgium has come to America and is now attending school at Boyertown Area Senior High. Her name is Clemence Terryn, often referred to as "Clem" by her new friends here in Boyertown. In an exclusive interview, Clem shared some of her impressions of America based on her experience so far.
Belgium is a small European country sandwiched between the two great powers of Germany and France. Clem, who is 15 and from the French speaking part of Belgium, known as Wallonia, is set to graduate secondary school in Belgium in 2024. Her academic knowledge is impressive as well as her ability to speak English.
Clem shared her view on Americans and some insight on how Belgium views them. When asked about her initial impressions of America, Clem answered, "Good, it's a different life, different culture, another language." In Belgium, the people are very diverse. Walloons, Flemish, Germans, and more are currently living in the country, all with different cultures and customs. So, when arriving in America, the presence of differing cultures was not a shock to her.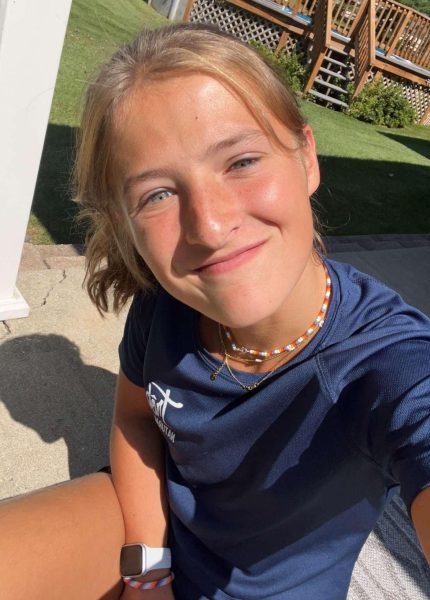 When asked about if there was any culture shock upon living in America, she said, "No, because America is famous so, there is no secret." In Europe, America is talked about extensively, and this could be true for any continent or country; however, Europe specifically likes to discuss the people from across the pond. The tone of the conversation, though, can vary depending on where the person is from in Europe. For instance, Belgians tend to like America since the two countries have been strong and faithful allies.
When talking about the level of learning in American schools, Clem expressed that her opinion is that American schooling seems lower academically as compared to her experience in Belgium. "You can have a really good level, like AP and all that stuff, but you have academic [also]."  Clem will be graduating Belgian secondary school next school year, and she will be 17 when she graduates, which is an entire year before most kids in American schools.
Overall, Clem's experience in America has been extremely rewarding. She's visited many of America's biggest attractions, such as Washington D.C., Disney, the White House, the U.S. Open, New York, and she has plans for much more in the future. For now, she's living in Boyertown until she leaves for her home in Belgium in December.